Swedish nuclear company Kärnfull Next has announced plans for a campus of small modular reactors (SMRs) on the Swedish coast, which will power data centers.
The company plans to build the campus at a site in Nyköping, on the east coast of Sweden, where nuclear software firm Studsvik currently operates test reactors. It is planned to come on stream in 2030.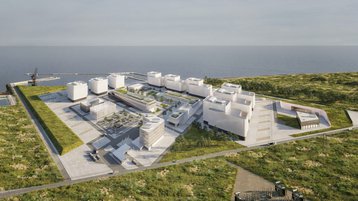 DCD has asked Kärnfull for more details, including the type of data center partners the company hopes to engage with.
Kärnfull is a proponent of SMRs, which are promoted as a way to reduce the cost and delivery problems of traditional large nuclear projects.
SMR providers, including Rolls-Royce in the UK and Nuscale in the US, argue that nuclear provides carbon-free energy which must be part of any plan to decarbonize society. The smaller reactors have power outputs around 300MW, and can be built repeatably, using factory-made components. It is hoped that the planning and approval process for nuclear can be made shorter by this level of standardization.
The company began a feasibility study in May for using Studsvik's site, which is due to complete in December. Based on favorable results, it has signed a memorandum of understanding to explore the potential for commercial nuclear energy production there.
"With its vast expertise in the nuclear technology sector, Studsvik is the perfect partner for us," says Christian Sjölander, CEO and founder of Kärnfull Next. "The Studsvik site seems to be well suited to become Sweden's first new nuclear power site, accompanying the three that already exist. Our vision is that one of Europe's first SMR parks can be taken into operation here already in the early 2030s. Having several small reactors creates future-proof jobs and opportunities for colocation with other high-tech industries."
"Kärnfull Next has established itself as a reliable and innovative partner with solid expertise," says Camilla Hoflund, CEO of Studsvik. "We welcome the partnership and look forward to the outcome of the feasibility study. At present it is too early to say what this may mean for Studsvik, as the conditions have not yet been fully investigated and there are many years left before a possible establishment of an SMR at the Studsvik site."
​The company is still checking on aspects such as financing, permitting, and the possibility of power purchase agreements with power off-takers, and expects to finalize some decisions on all that towards the end of 2024.
According to a release in Architects Journal, Instance Architects has been signed up as the potential architect for the eventual project, if it goes ahead.
Instance director Ian Macdonald said: 'The Studsvik SMR Campus as envisaged will be a game changer, demonstrating how the data center - nuclear nexus solves the issue of growing computing electrical demand with a resilient decarbonized supply."
In the US, Green Energy Partners has plans for a site with multiple SMRs in Surry County in Virginia. This project is being sited on a vacant lot next to an existing large nuclear power station.