With the US government blocking the export of Nvidia's high-end A100 and H100 GPU lines to China, the company has developed worse versions of the chips to be able to continue shipping its products.
The company began selling the A800 last November, cutting the GPU's 600GBps interconnect down to 400GBps.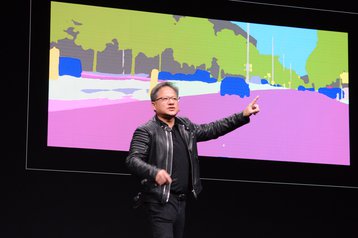 Now, Reuters reports that Nvidia has done the same with the H100, this time cutting its interconnect performance by about half - leaving it with around 300GBps.
Alibaba Group Holding, Baidu, and Tencent Holdings are all users of the H800, Nvidia confirmed. But the company declined to disclose the exact differences between the H800 and H100.
Nvidia's A100 and H100 GPUs have been critical to the development of large language models and generative AI more broadly, and were blocked from sale to China as part of a wider US effort to slow the country's own progress with AI, high performance compute, and chip design.
Last September, Nvidia warned investors that being blocked from exporting its most powerful GPUs would cost it as much as $400 million a quarter. It is not known how much its knee-capped chips have reduced those losses.