New York Internet (NYI) is to become an operating partner at the 75 Broad carrier hotel in New York City.
JEMB Realty this week announced a strategic partnership with NYI focused on 're-establishing 75 Broad Street as an interconnection hub'.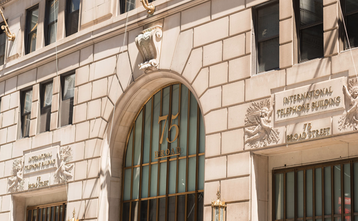 "By offering a tenant-friendly operating environment and leveraging the abundant existing telecom infrastructure, JEMB and NYI look to rebuild the carrier ecosystem and restore 75 Broad to its significant position in the city's interconnection landscape," building owner JEMB said.
NYI will act as a strategic operating partner, managing the sales, business development, marketing, and customer success functions for digital infrastructure and interconnection activities at 75 Broad Street.
"We've made significant capital improvements over the last decade and continue to offer unique value to telecommunications tenants," said Morris Jerome, Principal at JEMB Realty. "NYI, with their unique understanding of interconnection and New York City digital infrastructure, along with their integrity and commitment to excellence, is the optimal partner to help us leverage these valuable telecom assets to re-activate our carrier ecosystem as well as attract new carriers and enterprises to the building."
Built in 1928 as the headquarters for International Telephone & Telegraph (ITT), it served during World War II as a hub for communications with American submarines operating in the Atlantic Ocean.
JEMB acquired the 34-story, 720,000-square-foot (66,900 sqm) property in 1999. In the 2000s, the venue served as one of the original New York City carrier hotels, along with the former Western Union building at 60 Hudson Street, the AT&T Long Lines building at 32 Avenue of the Americas, and the old Port Authority warehouse at 111 Eighth Avenue.
"Interconnection has become the core driver of growth for our industry in NYC and we're thrilled to help JEMB relaunch a building that has such historical relevance in the telecommunications space," added Phillip Koblence, co-founder and COO of NYI. "Facilitating cost-effective interconnection is at the core of NYI's mission. Following our recent expansion at 60 Hudson Street and strategic partnership with Long Island Interconnect, 75 Broad will allow us to further deliver on our mission and enable carriers, cloud, and content providers who rely on interconnection, whether it be subsea, terrestrial or wireless, to achieve greater scalability and resilience."
75 Broad was the site of the infamous 'bucket brigade' during Hurricane Sandy. Due to regulations enacted after 9/11, New York data centers keep their diesel fuel in the basement, and their generators on the roof. However, after the Hurricane hit, many companies weren't able to pump fuel to the roof. As a result, Peer 1 first tried to carry 55-gallon diesel drums on hand trucks one flight at a time - for 18 flights. The company eventually transferred the diesel into smaller five-gallon barrels and carried those upstairs in a chain for some sixty hours.
Infrastructure and managed services provider NYI occupies 40,000 sq ft (3,700 sqm) of the 60 Hudson carrier hotel in New York and space in the Long Island Interconnect facility (previously 1025Connect). NYI partnered with 1025Connect in early 2022 to become the strategic operations partner of the 18,500 sq ft (1,700 sqm) facility at 1025 Old Country Road in Westbury.
NYI also offers cloud, colocation and bare metal managed services from Miami's 36 NE Second Street carrier hotel, another 18,000 sq ft (1,770 sqm) facility outside Chicago at 800 Jorie Blvd in Oak Brook, Illinois, and out of 3101 Western Avenues in Seattle, Washington.
In 2021, BSC announced it was selected to provide critical facility management for a data center formally operated by FiberMedia Group LLC at 75 Broad.