New York-based Stony Brook University is to procure a new HPE supercomputer.
The education provider this week announced it will soon deploy a new High-Performance Computing (HPC) system built by Hewlett Packard Enterprise (HPE) and Intel.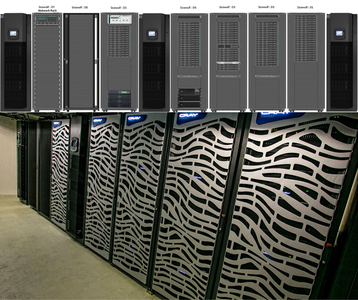 The new HPC system will act as a refresh to the existing SeaWulf cluster. SeaWulf currently consists of 400 nodes capable of 1.86 petaflops peak performance.
The new cluster will see Stony Brook become the first academic institution in the US to use Intel Xeon Max series CPUs on HPE ProLiant servers. It is expected to be in production this summer and in operation sometime during the first semester of the 2023-24 academic year.
This system – to be co-managed by the Institute for Advanced Computational Science (IACS) and the Division of Information Technology (DoIT) – will be used to research a number of multidisciplinary fields, including engineering, physics, the social sciences, and bioscience.
"I am excited by what this new generation of computer processors promises, as some of the work may be up to eight times faster with this new HPC solution compared to our current SeaWulf cluster," said Robert J. Harrison, PhD, founding endowed director of the IACS. "Stony Brook's leadership of the NSF Ookami project and our partnership with HPE were instrumental in positioning us to successfully become the first University to use this revolutionary technology."
SeaWulf currently comprises 164 compute nodes from Penguin Computing, each with two Intel Xeon Haswell CPUs; eight of those nodes contain a total of 28 Nvidia Tesla GPUs. It also features 75 compute nodes from Dell, 64 with two Intel Xeon Gold Skylake CPUs and 11 with Intel Icelake CPUs and Nvidia A100 GPUs; and 150 notes from HPE, 48 with two AMD Milan CPUs, and 94 with two Intel Sapphire Rapids CPUs.
Stony Brooks said the new HPE ProLiant DL360 Gen11 servers will improve cost savings and reduce the data center footprint for the university with a closed-loop liquid cooling capability. The new system is being deployed by HPE partner ComnetCo.
"The new HPC system will be a boon for the whole campus. It will greatly enhance multi-scale, multi-physics applications like astrophysics," said Alan Calder, PhD, professor in the department of physics & astronomy, and deputy director of the IACS. "Not only will models be able to include more physics and thus have unprecedented realism, but the system's capacity will allow for performing suites of simulations for meaningful assessment of the uncertainty of the results."
The new system was funded by a grant from the National Science Foundation; funding from the New York State Department of Economic Development; the Offices of the Stony Brook University President, Provost, CIO, and Vice President for Research (OVPR); Chair of the Department of Materials Science and Chemical Engineering; Deans of College of Arts & Sciences (CAS), the College of Engineering & Applied Sciences (CEAS), the School of Marine and Atmospheric Sciences (SoMAS), and the IACS,
In 2020, Stony Brook launched Ookami, an HPE-Cray system that utilized the Fujitsu A64FX Arm-based processor found in the Fugaku system in Japan.
More in IT Hardware & Semiconductors