African Infrastructure Investment Managers (AIIM) has acquired a majority stake in Ghana's only Tier IV data center.
The Old Mutual-backed fund, together with the management team of Onix Data Centres Ltd, have acquired a majority stake in Ngoya Etix DC (Ghana) Ltd, a carrier-neutral data center with a current capacity of 170 racks (expandable to 680 racks).
Ghana's only Tier IV facility gets an upgrade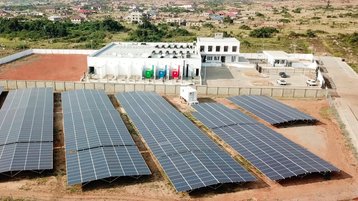 Located in the Greater Accra region of Ghana, the facility is already the only Uptime Institute-certified Tier IV data center in the country. As part of the deal, made via AIIM's flagship AIIF3 pan-African infrastructure fund, the facility will be expanded into what AIIM promises to be the largest in the country. Terms of the deal were not disclosed.
"Whilst we have seen considerable interest in the African data center sector, the evolution of in-country capacity in many markets outside of South Africa, remains nascent and inadequate to meet rising data demands, migration of enterprises to the cloud, and the need for content closer to end consumers," said Ed Stumpf, Investment Director at AIIM. "Data centers underpin and enable the digital economy and present strong growth prospects for long-term investors such as AIIM."
The facility, which is partly powered by solar energy, will be renamed Onix Accra 1 and connectivity will be provided by Vodafone, Comsys Holdings Corp and CSquared Innovations Inc. Onix DC also has plans to install an Internet Exchange Point (IXP) in the facility.
"I am delighted that we have been able to acquire this data center, with the support of AIIM, who are long-standing supporters of, and investors in Ghana," said Michael Nahon, CEO of Onix. "We have well-developed plans to deliver a high-quality facility and see this as an optimum time to be investing in the Ghana market."
Ngoya Etix DC was a joint venture between Etix Everywhere and investment trusts Ngoya and Africa Investment Group (AIG), and the Accra facility was first announced in 2017. This is AIIM's first data center investment but has previously invested in South African fiber company Metrofibre.
Macquarie sold its equity in the joint venture to Old Mutual in 2014.
A recent report from The African Data Centres Association (ADCA) and Xalam Analytics claimed Africa needs 1,000MW and 700 facilities to meet growing demand and bring the rest of the continent onto level terms with the capacity and density of South Africa.