Oman and Abu Dhabi investors are planning to buy container data centers from Crusoe Energy Systems, powered by otherwise-wasted natural gas.
Oman Investment Authority (OIA) and Mubadala Investment Company (Mubadala) of Abu Dhabi are investing in Crusoe's "digital flare mitigation", a system that places containerized data centers next to oil wells, where they are powered by natural gas that would normally be wasted by burning off in "flares", and apparently cannot be used in other productive ways.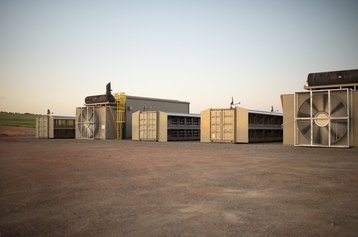 The deal brings Crusoe to the Middle East, in an expansion from its US base.
Flare-washing?
Crusoe Energy operates digital flare mitigation in the US, offering to deliver computing containers to oil wells where they consume electricity created by burning gas that would otherwise be flared because it is apparently uneconomic to exploit it. Instead of being wasted, the energy is used for computation.
The process means the waste gas is fully combusted, so methane is not released. Instead, CO2 is released, which has a much lower (but longer-lived) effect on the greenhouse effect which is warming the planet.
Crusoe presents this as a win for the climate, with CEO Chase Lochmiller saying: "Flaring is a global problem with a global impact. We're excited to expand our Digital Flare Mitigation technology to the Middle East to help solve the region's long-standing flaring challenges, while also empowering a new generation of digital technology in the region."
However, the Intergovernmental Panel on Climate Change and a global consensus of climate scientists have said that the only way to hit our climate change target of 1.5C global warming is to stop using fossil fuel and leave most of the world's oil reserves in the ground.
Crusoe now has 98 data centers located at oil wells, which have used around 2.5 billion cubic feet of methane gas, which the company claims is reducing CO2-equivalent emissions by around an estimated 650,000 metric tons per year, based on that comparison of methane to CO2. This is comparable to removing approximately 140,000 cars from the road.
"We strive to be at the forefront of the adoption of innovative technologies, and the Digital Flare Mitigation technology presents us with a great opportunity to improve the environmental performance of Oman's existing energy production industry," said Ismail Al-Harthi, senior manager technology investments at OIA and CEO of Innovation Development Oman
In other words, this makes oil wells thenselves slightly less polluting, but does nothing to counter the actual job of those oil wells, which is to produce oil - something which urgently needs to stop.
Initially, Crusoe's computing efforts were focused on cryptocurrency, a project which is inherently wasteful of energy, but the company now says it has compute customers including Massachusetts Institute of Technology's Computer Science and Artificial Intelligence Lab (MIT-CSAIL), Folding@Home, and OpenCV.
The Middle East financing is part of Crusoe's $350m Series C round of funding G2 Venture Partners, a group otherwise specializing in climate technology.
Lochmiller says: "OIA and Mubadala stand out as great partners that take a long-term view on tackling big problems", omitting their role as oil devleopers in creating those problems.