The Optic Marine Systems (OMS) Group is deploying Makai Ocean Engineering's software on board five of its subsea cable installation and repair vessels.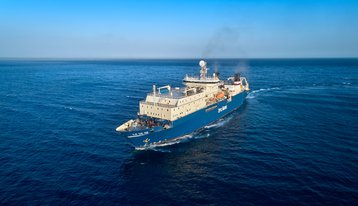 The software, called MakaiLay, will be used on OMS' CS Cable Vigilance which was launched in 2022, and the CS Ile de Re, CS Lodbrog, CS Teneo, and Peter Faber ships.
MakaiLay is designed to help users lay subsea cables accurately, quickly, and safely through advanced modeling, real-time control, and data logging. It is reportedly already deployed on around 90 percent of all cable ships across the globe. Thus far, MakaiLay has aided the installation of more than 600,000km of subsea fiber optic cables.
MakaiLay is deployed as two main computers on the ship - one for primary use, the second as a backup. The computers would typically need an Intel 64-bit processor, 8GB RAM, and two 500GB hard drives. The software is compatible with the Windows operating system, and all data processing is done on the machine. Other PCs can then connect to the main Makai software device via Ethernet.
"It's been remarkable to watch OMS Group expand their cable ship fleet in recent years to support the present and future needs of their customers. We're truly honored to support them through this growth," said Dr. Venkata Jasti, director of engineering software at Makai.
"OMS Group has been expanding our cable installation and repair capabilities by expanding our fleet as well as taking on increasingly challenging operations," said Ronnie Lim, Group CEO of OMS Group. "Makai software plays an integral part in real-time operation management on our vessels."
Cable ships are few and far between. According to the ISCPC there are around 60 cable ships in operation, many of which are over 30 years old. With over 400 subsea cables running and demand increasing, improving the efficiency of the fleet we have (and adding to those numbers) is essential to prevent delays.
OMS Group has been involved in the laying and maintenance of several subsea cables in the Asia Pacific. The company's CS Lodbrog ship (also set to receive the MakaiLay software) landed the NatituaSud cable in French Polynesia in April this year and is handling the installation of an upcoming domestic subsea cable connecting east and west Australia.