Hyperscale data centers and cloud computing have become the largest portion of the data center industry by far, according to a new report, but this largely hasn't come at the expense of on-premise computing in terms of capacity or spending.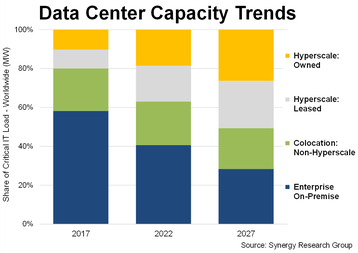 A new report from Synergy Research Group suggests there are now around 900 large data centers operated by hyperscale companies, accounting for approximately 37 percent of global capacity.
The research firm said non-hyperscale colocation capacity accounts for around 23 percent of global capacity, with on-premise taking up the remaining 40 percent.
The ratio of cloud to on-premise capacity is changing rapidly. Five years ago, Synergy said almost 60 percent of data center capacity was in on-premise facilities; in another five years, hyperscale operators will account for over half of all capacity, while on-premise will drop to under 30 percent.
However, while the cloud-to-on-premise capacity ratio will continue to see hyperscalers grow, in absolute terms the actual on-premise capacity is expected to drop only marginally.
Likewise, while spending on cloud has increased dramatically, this hasn't been at the expense of on-premise.
Ten years ago, Synergy said enterprises were spending over $80 billion per year on IT hardware and software for their own data centers, while spending well under $10 billion on what was then nascent cloud infrastructure services.
Today cloud spending has increased by an average 42 percent per year to reach $227 billion in 2022. On-premise spending has actually increased too, but only at an average of two percent per year – reaching around $100 billion last year.
"On-premise data centers will not disappear any time soon, but their scale is being increasingly dwarfed by hyperscale and colocation companies," Synergy said.