Low Earth Orbit satellite operator OneWeb has signed new distribution deals with Australian communications firm Pivotel and aviation supplier Panasonic Avionics.
Pivotel and OneWeb this week signed a Distribution Partner Agreement that will see the communications firm rollout the satellite company's broadband satellite Internet services across Australia and New Zealand.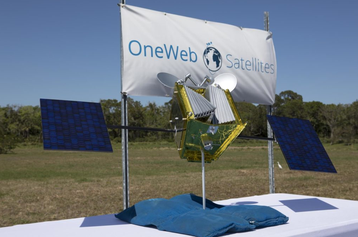 Pivotel CEO Peter Bolger said: "The agreement between OneWeb and Pivotel will bring fast, reliable, low-latency connectivity with lower contention rates to areas where it's needed most. Australia's rural and remote communities and organizations haven't had access to this kind of service before. We see OneWeb's cutting-edge satellite technology as a game-changer for many regional operators and believe the service will become the catalyst that allows organizations to improve productivity, efficiency, and safety across sites or entire regions."
Founded in 2003, Pivotel provides remote satellite and cellular communication services across Australia and New Zealand. It also has operations in the US.
In addition to its retail offering, Pivotel plans to provide wholesale services for ICT system integrators, value-added resellers, and smaller Telco customers. This includes backhaul deployments for mobility or fixed wireless connectivity in some of Australia's underserved remote regions, including aboriginal communities, for its ecosphere cellular solutions.
OneWeb VP APAC David Thorn added: "Pivotel's focus on regional and remote communication services aligns perfectly with OneWeb's own aim of providing global connectivity and makes them an ideal partner. Their proven track record of offering innovative solutions, in addition to their understanding of both technology and the market, is hugely valuable to OneWeb. We are excited to have the opportunity to play a key role in improving the resilience of the telecom infrastructure in Australia and New Zealand."
September and October saw OneWeb sign deals with Panasonic Avionics Corporation and Kymeta.
Panasonic Avionics Corporation, a supplier of in-flight entertainment and connectivity (IFEC) solutions, will market, sell, and support OneWeb's in-flight broadband services to commercial airlines worldwide. OneWeb has previously signed in-flight connectivity distribution deals with Intelsat and Gogo.
OneWeb and Kymeta announced that they will begin offering connectivity services to superyachts starting from March 2023. The companies said a test off the coast of Monaco in August demonstrated speeds up to 200Mbps download and 20Mbps upload. The two companies previously signed a distribution deal in March 2022.
Wholesale-focused OneWeb, currently undergoing a merger with Eutelsat, has signed distribution agreements with more than two dozen firms globally. In industry and sector verticals, it has signed distribution deals with the likes of Airbus, Rock Networks, MOL, Marlink, Hanwha, Clarus Networks, Hughes, and Peraton, Excelerate Technology Group, Navarino, and others.