Low Earth Orbit (LEO) satellite firm OneWeb is to place a ground station at Telespazio's teleport in Rio de Janeiro, Brazil.
Telespazio, a joint venture of Leonardo and Thales, through its subsidiary Telespazio Brasil, will supply OneWeb with infrastructure and services for a new satellite gateway at the teleport in Maricà.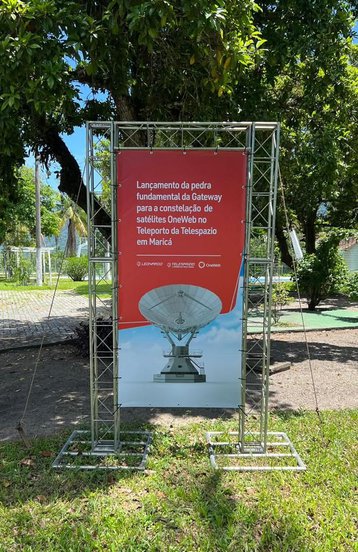 Timelines weren't shared.
Satellite infrastructure
"This is an important agreement for OneWeb and one that strengthens our longstanding partnership with Telespazio," said Christopher Casarrubias, Head of Regulatory and Government Affairs at OneWeb. "By working together, we will supply high-speed, low-latency Internet to a variety of industries and government institutions, significantly expanding connectivity across Brazil and making a long-term investment in the country's satellite infrastructure. As we make continued progress to build our global network OneWeb looks forward to playing an important role in connecting remote and rural parts of Latin America with the support of local partners."
A groundbreaking ceremony for the new infrastructure was held this week. OneWeb previously installed a ground station at Telespazio's Italian Space Centre in Scanzano, Palermo, which now has 14 operative antennas.
"We're very happy that One Web has chosen Telespazio again," said Marzio Laurenti, CEO of Telespazio Brasil. "In the Maricá teleport today, we started work aimed at hosting the gateways that will be operative all over Latin America by the end of the year, when the OneWeb constellation will begin initiating global services with its network. Telespazio is also reinforcing its role as an international satellite services operator offering ground segment solutions for large-scale low-orbit satellite constellations."
Work on the teleport in Maricà began in 2020; The companies announced at the time that Codemar (Companhia de Desenvolvimento de Maricá) – the municipality's development wing – would lease a large parcel of land to Telespazio to develop the infrastructure to host antennae for both LEO and Geostationary Earth Orbit (GEO) satellites.
The explosion in Low Earth Orbit satellite constellations – especially those providing broadband Internet connectivity – requires an increase in the corresponding ground station infrastructure to both control the machines as well as relay the data being sent through them.
OneWeb hasn't revealed how many ground stations it has in total or their locations but does have facilities across Kazakhstan, Norway, and Portugal alongside US stations in Alaska, Connecticut, and Florida. Reports indicate its network of 648 satellites could require up to 44 ground stations in total, with around 22 thought to be in development in 2020 at the time of its bankruptcy.
By the end of 2022, the company said its ground network will include coverage of the UK, Northern Europe, Alaska, Canada, Greenland, Iceland, and Arctic seas.
SpaceX hasn't publicly disclosed its overall plans for ground station infrastructure globally. Previously the company said it plans to colocate some of its ground stations at Google data centers, though it never revealed specific details.
The company is also developing a ground station on the Isle of Man in the Irish sea between Ireland and mainland UK. In March 2021 it was reported UK firm Arqiva had won a contract to provide ground station gateways in the UK for Starlink. Arqiva operates five teleports across the UK; located at Crawley Court, Chalfont on the Isle of Man, Bedford, Martlesham, and Morn Hill. In France, the company recently withdrew plans to build two of three planned facilities after backlash from locals.
According to the unofficial Starlink coverage tracker Starlink.sx, SpaceX has more than 40 permanent ground stations in North America, 14 in Latin America, 14 in Europe and Turkey, 25 in Australasia, and others on islands including Guam and Puerto Rico. It has none in Asia or Africa. It recently placed a temporary emergency ground station in Fiji to provide connectivity services to Tonga in the wake of a volcano that damaged its only international subsea fiber cable.
AWS has installed or connected 10 ground stations at its data centers globally. Microsoft has installed its own antennae at its facilities, while SES has also installed some of its own at some Microsoft locations.