The Maldivian subsidiary of Qatari telecoms provider Ooredoo has celebrated the opening of a new submarine cable deployed by Huawei Marine.
The 1,200 km system with a design capacity of 3.2TB connects six main islands in the Maldives, using 100G technology.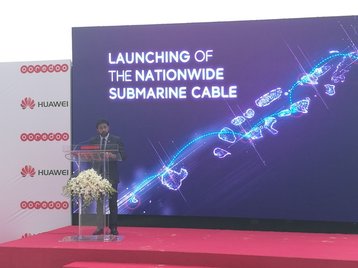 A digital island
"Ooredoo's network upgrade supports the government's vision of making Maldives one of the best connected countries across South East Asia, and will contribute to taking the ICT industry of the Maldives to the next level," Azleen Ahmed, Home Minister of Maldives, said at the launch ceremony in Malé. The event was attended by more than 200 guests, including the Chinese Ambassador to the Maldives Wang Fukang.
Vikram Sinha, CEO of Ooredoo Maldives, said: "At Ooredoo, we strongly believe in the power of ICT technologies, especially broadband services, in connecting communities to new and life enhancing opportunities for socio-economic development.
"With fiber being the backbone of digital nations across the world, we want ensure that we utilize the full potential of our submarine cable immediately. Powered by our multimillion dollar network upgrade, Ooredoo is proud to provide Maldives with the first 100 percent 4G+ network in South East Asia."
Mike Constable, the CEO of Huawei Marine added: "The Maldives is known for its beautiful natural resources that attracts millions of tourists every year. We are proud to partner with Ooredoo to deliver our leading-edge network solutions that will facilitate Ooredoo's vision of powering a digital economy across the nation."
The partnership between the Middle Eastern telecoms firm and Chinese infrastructure giant in the Maldives comes at a time of increasing economic collaboration between China, South East Asia, and the Middle East.
In recent years, China has strengthened its ties to the Gulf Cooperation Council, of which Qatar is a member. As The Oxford Business Group's 2015 report on Qatar notes, November 2014 saw the country announce a strategic partnership with China, which was soon followed by several joint investment ventures. In 2015, China announced that the coming year would be 'Qatar-China Cultural Year in Beijing'.
Crucial to China's expansion plans in both the Middle East and in the Maldives is the 21st Century Maritime Silk Route Economic Belt (also known as the Maritime Silk Road), first proposed by Chinese President Xi Jinping in 2013.
In late 2014, Xi said that the country would create a $40 billion development fund to help finance the Maritime Silk Road and the New Silk Road. A Fung Business Intelligence Centre report from 2015 cites expected outcomes of the Silk Road initiatives to include increased telecommunications infrastructure investment and predicts that "connectivity within the Belt and Road region will be greatly enhanced."