Open Access Data Centres (OADC) is about to launch three more Edge data centers in South Africa.
The WIOCC-owned company this week announced the deployment of a further three Edge facilities East London, George, and Paarl will be live by the end of the month.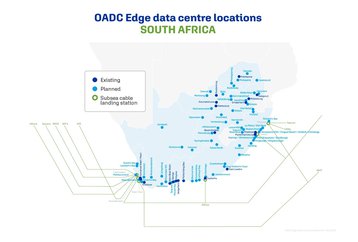 OADC chief executive officer Dr. Ayotunde Coker said: "We are continuing our OADC Edge expansion to more of South Africa's business hubs to meet the demands of 5G operators, ISPs and fiber operators for support in extending network reach into even more locations. With almost 30 Edge facilities now operational, we are bringing a transformational proposition to the South African market; one that we intend to start rolling out to more countries in the new year."
In November 2021, WIOCC (West Indian Ocean Cable Company) announced it had raised $200 million to launch a new pan-African data center network known as Open Access Data Centres. OADC later said it planned to invest $500 million over the next five years.
In May 2022 the company said it was planning the rollout of "over 100, 0.5MW Edge data centers" by the end of 2022, with 17 of these small Edge locations already live in South Africa, offering colocation, rooftop access, and network interconnectivity between facilities.
In June it announced plans to roll-out Edge locations to Pietermaritzburg, New Germany, Mount Edgecombe, Beaufort West, Paarl, George, Kimberley, East London, and Brits over the next few months. Around 20 locations are currently live.
The company launched its first 5MW, 2,200 sqm (23,700 sqm) core data center in Durban, South Africa, earlier this year. The company's second core data center is to open in Lagos, Nigeria later this year and will be the landing point for Google's Equiano cable, and a third facility in Mogadishu, Somalia, is due to come online 'before the end of 2022'.
OADC has previously said it plans facilities in up to 20 countries across Africa, including in Accra, Ghana; Abidjan, Cote d'Ivoire; Cape Town & Johannesburg, South Africa; Kinshasa, DRC; Lagos, Nigeria; and Mombasa & Nairobi, Kenya. It recently said the company said 2-3MW, Tier III-quality facilities are coming online in Johannesburg and Cape Town during Q3 2022.
Formed in 2008, African wholesale network firm WIOCC (West Indian Ocean Cable Company) is part of the Eastern Africa Submarine Cable System (EASSy), Europe India Gateway (EIG), West Africa Cable System (WACS), Telecom Egypt North (TE North), South East Asia–Middle East–Western Europe 5 (SEA-ME-WE 5), and the Facebook-led 2Africa cable systems.