Hungary's OTP Bank has tapped SambaNova Systems to build 'the fastest AI supercomputer in Europe.'
The two companies this week announced a strategic partnership to deploy a multi-rack AI system, built on SambaNova Dataflow-as-a-Service GPT and its DataScale integrated software and hardware system, for what SambaNova said will be the most advanced language model in the world at a commercial bank. Specifications or system details were not shared.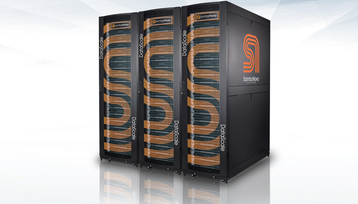 The system will be provided as a national AI resource to the public sector, private industry, and higher education in cooperation with the Ministry for Innovation and Technology (ITM) of Hungary.
"This is a unique collaboration between OTP Group, ITM, and SambaNova Systems to provide an incredible resource to the country and the Central and Eastern European region," said Péter Csányi, Deputy CEO, Head of Digital Division at OTP Group. "We are pleased to announce that this groundbreaking supercomputer will represent a unique AI capability to build GPT-3 level language models for languages across CEE."
Headquartered in Budapest, OTP Bank Group s one of the largest independent financial service providers across Central and Eastern Europe. OTP (Országos Takarék Pénztár, or National Savings Bank) was founded in 1949 as a state savings and commercial bank. Today it has more than 17 million customers.
"OTP Group has an impressive industry-leading plan to make AI its key technology driver for the next decade. With the support of ITM, the AI environment that they're creating will provide accessible, cutting-edge infrastructure for universities, research centers, public and private organizations across Hungary," said Prof. Dr. László Palkovics, Minister for Innovation and Technology in Hungary.
The two companies will work together to build a 'one-of-a-kind Hungarian language model' – one of the most complicated languages in the world – followed by the unique languages of other OTP Group countries. Samba said OTP customers will "experience faster, more personalized AI-based financial services."
"Large language models are quickly becoming the primary interface to the enterprise and AI will drive the transformation of industries. This deployment at OTP Group will showcase what's possible with advanced AI across document-heavy industries, such as banking and financial services," said Rodrigo Liang, co-founder and CEO of SambaNova Systems.
Founded in 2017, San Francisco-based SambaNova has raised more than $1 billion from investors including Google Ventures, Intel, SoftBank, and Singaporean wealth fund GIC. Co-founder Christopher Ré previously founded data company Lattice, which was acquired by Apple in 2017.