American power and networking infrastructure specialist Panduit has launched a new range of intelligent power distribution units (iPDUs).
The Panduit SmartZone G5 iPDU offers maximized outlet density, and gives customers the ability to monitor power consumption, environmental factors and security at the server cabinet level.
The range includes several models for different use cases, including Monitored Input (MI), Monitored Switched (MS), Monitored per Outlet (MPO) and Monitored and Switched per Outlet (MSPO).
Information is power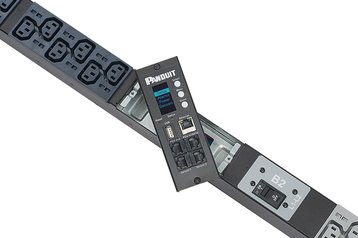 The SmartZone G5 product range already includes a variety of data center essentials like cabinet locks, meters and sensors, as well as 'basic' PDUs.
The latest addition combines Panduit's PDUs and energy meters, and plugs them into a network, enabling the device to continuously scan for electrical circuit overloads and environmental conditions that place critical equipment at risk. This information can be viewed through an online portal, using any web-enabled device.
The Panduit SmartZone G5 iPDUs feature hot-swappable controllers, 1Gb Ethernet connectivity, plug-and-play sensors and can be accessed using two networks at the same time, which makes them suitable for colocation environments.
According to Panduit, accurate measurement of power consumption enables data center operators to make informed capacity planning decisions, improve uptime, and drive green data center initiatives to save energy and costs.
"In this IoT connected world, today's IT managers must provide higher data speeds while controlling costs by maximizing return on assets," said Marc Naese, senior vice president for data center business at Panduit.
"Making the right choice in IT equipment is essential for safe, efficient data center operation. Our full range of G5 iPDUs, environmental sensors, access security accessories, and dual locking power cords are the key to fulfilling mission‐critical data center needs."