The Pakistani-Egypt segment of the Pakistan and East Africa Connecting Europe (PEACE) subsea cable has achieved its final splice, allowing for connectivity from Karachi, Pakistan to Marseille, France.
PEACE Cable International Network confirmed the completion of the construction and laying of the subsea cable with network service provider Cybernet, to connect Karachi with Zafarana, Egypt. In total this segment spans a total length of 5,800km (3,600 miles).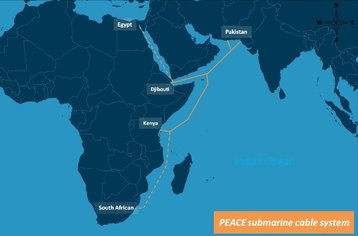 The cable lands at Interxion's Marseille MRS2 data center for its landing station architecture, with the French city a strategic location for Europe's subsea cables, with PEACE becoming the 15th to connect to the region.
Cybernet is the landing partner for the PEACE subsea cable and through its Cable Landing Station in Karachi, it will be able to enable connectivity across Pakistan via the company's fiber network.
"With Cybernet, we will bring much-needed redundancy to Pakistan's Internet backbone and provide users with high-speed traffic to meet the rapidly growing demand for internet access in different types of digital scenarios in Pakistan," said PEACE Cable COO Sun Xiaohua.
Cybernet COO Maroof Ali Shahani added: "We have completed a key segment of the PEACE submarine cable system, from Pakistan to France, which will have a tremendous impact on the digital landscape in Pakistan.
"The cable system will help the nation stay connected with the world in an ever-changing technological landscape."
The cable has a capacity of up to 96Tbps for the Pakistan-Egypt segment, and even more at 192Tbps for the Mediterranean segment from Egypt to France.
PEACE is operated by Hong-Kong based telecoms company PCCW Global and is 15,000km long (9,320m). It runs south from Pakistan to Kenya and the Seychelles with plans to land in South Africa.
The subsea cable which started development in 2017 offers a low-latency route from Asia into Africa and Europe and has the capability to transmit capacity of 16Tbps per fiber pair. PEACE claims that the new subsea cable will reduce latency between Pakistan and France to 92 milliseconds.
Earlier this year it was announced that the PEACE cable would be extended out east to Singapore. The 6,500km extension, announced in partnership with Ooredoo Maldives, will land in Kulhudhufushi, the Maldives, with potential landings points in Indonesia, Malaysia, Thailand, Bangladesh, and Sri Lanka.