Real estate development firm Peterson Companies has officially announced plans for a large data center campus in Culpeper County, Virginia.
The Culpeper County Board of Supervisors granted a rezoning application for the development of the new data center campus.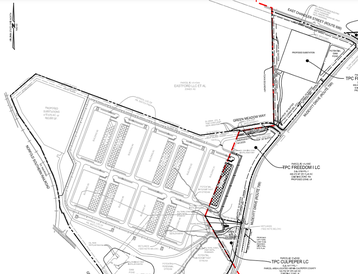 Peterson said the successful rezoning of 34.4 acres of land along Route 799 (McDevitt Drive) and Route 699 (East Chandler Street), which adjoin 115 acres of land previously rezoned by the Town of Culpeper for light industrial, paves the way for the Culpeper Technology Campus, a 150-acre site that will support more than two million square feet of data centers.
Site plans on the company's website suggest up to eight buildings, though plans filed with the County suggest potentially nine with up to 2.1 million sq ft (195,100 sqm) of data center space. Peterson has said power will be available to the site by 2025 via two approved 300MW Dominion substations.
"We are grateful to the Town of Culpeper for the initial rezoning, and are thrilled to receive final approval from the Culpeper Board of Supervisors, which allows us to bring our expertise in large-scale developments to Culpeper, Virginia," said Taylor Chess, president of development with Peterson Companies. "The Culpeper Technology Campus will provide a significant investment in the region's technology infrastructure and will foster innovation, economic growth, and job creation."
Plans for the campus surfaced in May 2023 when the Culpeper County Planning Commission voted to approve the rezoning request. The Culpeper County Board of Supervisors this week approved the request – from TPC Culpeper LC & TPC Freedom I LC – this week, after delaying their decision by a month.
Most of the campus will be located in the Culpeper's Technology Zone, with a generator yard and substation set to be located in the neighboring McDevitt Technology Zone.
Founded in 1965, Peterson is a privately-owned developer of office, retail, industrial, self-storage, and residential properties. While not largely known for its data center developments, the company has previously partnered with Stack Infrastructure for a campus in Prince William County's Manassas. The company is also planning a 5.5 million square feet (511,000 sqm) campus in Virginia's Stafford County.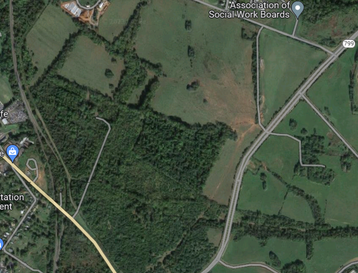 Virginia's Culpeper County sees a wave of data center interest
Immediately adjacent to the Peterson plot, Culpeper Town Planning Commission is considering rezoning more land for a potential data center campus. The 116-acre Copper Ridge Data Center Campus could see up to eight two-story data center buildings developed totaling 2.36 million sq ft (219,250 sqm), as well as an on-site substation.
Six of the buildings would total 250,000 sq ft (23,225 sqm), one would total 380,000 sq ft (33,300 sqm), and the largest would span 480,000 sq ft (44,600 sqm).
The plot is north west of the Peterson proposals. It isn't clear which company is behind the development at this stage, but the land is owned by CR1/Culpeper LLC and CR2/Culpeper LLC.
CloudHQ is potentially part of at least one of the developments, having acquired 100 acres along McDevitt Drive last year with reported plans for a 2.1 million sq ft campus.
Northern Virginia is the world's major data center market, but Culpeper County has largely eschewed the trend. There are four Equinix data centers in Culpeper County (CU1-4) that opened around 14 years ago.
AWS was last year granted permission to rezone 243 acres of land as a precursor to developing a data center campus consisting of two buildings spanning up to a combined 430,000 square feet (40,000 sqm). Northern Virginia land-use attorney John Foote, representing Amazon, previously said the county's existing technology zones lack adequate power for today's data centers.
The county Board of Supervisors approved the rezoning 4-3 in April 2022, despite the county Planning Commission previously voting to recommend denying the application. However, local residents are now suing county supervisors hoping to have the decision overturned.
Another data center campus was proposed but withdrawn after resistance from local residents and government officials.
More in Construction & Site Selection