Prince William planning officials have voted to recommend the county approval proposals that could pave the way for up to 2,100-acres and up to 27.6 million square feet of data center development outside Manassas in Northern Virginia.
For more than a year landowners and developers have been aiming to repurpose large swathes of land on Pageland Lane known as the rural crescent for data center development in a project known as the Prince William Digital Gateway.
QTS and Compass are known to be looking to develop on the site. If fully built out, the Gateway could more than double the county's existing data center footprint and overtake neighboring Loudoun County.
This week the Prince William County Planning Commission voted 4-3-1 to recommend approval of the first application. County staff had recommended last week that planning officials approve the proposals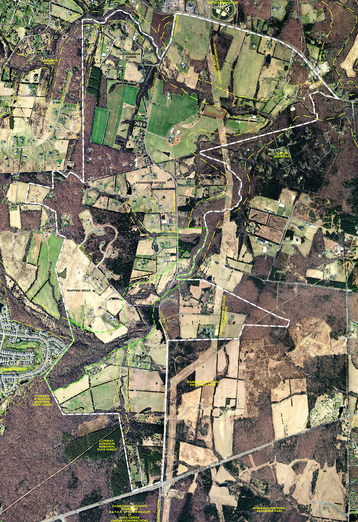 More than 100 people spoke during the first Planning Commission Public Hearing on the PW Digital Gateway, which started Wednesday night and went on until around 5 am Thursday morning. Opponents to the project held a rally and press conference outside the building before the meeting started.
Reports of a PWC Digital Gateway surfaced last year, originally as an 800-acre development later tied to QTS. However, more landowners joined and the proposal expanded to include some 2,133 acres of the county's "rural crescent" for data centers. Compass and QTS are known to be involved in the project, looking to rezone and develop on around 800 acres each. A letter from NOVEC in a previous staff report suggests the project could total more than 1,000MW.
A number of local residents and local officials have voiced opposition to the plan, against further developments in the rural area, worries about the potential impact the rezoning could have on the nearby Manassas National Battlefield and other local historical sites as well as the local water table and rural nature of the area.
Opponents and proponents have launched personal attacks against each other, and it has spawned recall efforts against Gainesville Supervisor Pete Candland and Board Chair Ann Wheeler as well as a federal lawsuit against Candland.
Commissioners Cynthia Moses-Nedd, Qwendolyn Brown, Juan McPhail, and Patty Kuntz voted in favor of the project. Commissioners Joseph Fontanella Jr., Richard Berry, and Tom Gordy opposed.
Commissioner Robert Perry Jr. abstained from the vote.
More than 220 people signed up to speak, with some 150 actually standing to speak after hours of waiting for many. Inside NoVA reports a slight majority were in favor, with most of those either amongst the landowners looking to sell or the companies aiming to develop data centers.
Commissioner Berry first made a motion to only approve the northern portion of the proposal but did not get a second. He then made a motion to recommend denial and still did not get a second.
Gordy and Fontanella made an unsuccessful bid to table the proposal for county staff to get more information. "We need more time to get this right," Gordy said.
Brown then made the motion to recommend approval of the application, saying the project "presents an opportunity to transform Prince William County's future in a profound way."
The proposal next heads to the Board of County Supervisors. No date has been scheduled, but officials are planning for an October hearing and vote.
Elana Schlossberg, executive director for opposition group the Coalition to Protect PWC, told DCD the whole process was "corrupt," and is now setting its sights on the next vote.
"We will plan for that day and community outcry. This is beyond corrupt, and it is killing this community," she said. "What is so sad, is that we are predicting the impacts, and they will come to fruition if this Board is successful, and it will do us no good to say 'we told you so'."
Schlossberg questioned Commissioner Perry Jr.'s decision to abstain as well as Commissioner Berry's proposal to remove the northern portion of the development, suggesting the reason was due to his supervisor Pete Candland's involvement in the proposals as one of the landowners.
"There is no light between the data center robber barons and government oversight of the people. We literally have no objective arbiter. In the 20 years of land use, I have never witnessed anything like last night," she said.
More in Construction & Site Selection