Princeton Digital Group has topped off the first building at its 100MW data center campus in Tokyo, Japan.
"Today we are pleased to share that we held the topping off ceremony for TY1 Phase 1 (48MW), PDG's flagship greenfield project in Saitama, Greater Tokyo," the company said on LinkedIn this week. "This is a significant milestone and marks a major step forward in the overall launch progress of TY1. As we commemorate this important milestone, we would also like to thank our partner Lendlease who have played a major role in achieving this milestone."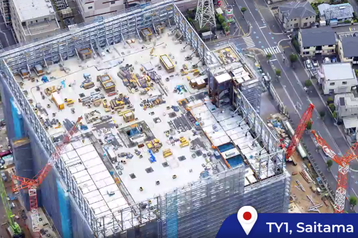 Lendlease and Princeton Digital Group (PDG) first announced plans for a 100MW campus in Tokyo in June 2021 and broke ground on the project the following June. Project completion is expected by the second half of 2024.
Located at Saitama around 30 km north of central Tokyo, the greenfield project will eventually see two buildings developed on a 33,050 sqm (355,750 sq ft) site. Full build-out is expected by 2026 and will offer more than 60,000 sqm (645,835 sq ft) of gross floor space.
This is the first project under Lendlease Data Centre Partners: Lendlease is developing and constructing the core and shell on a built-to-suit basis for PDG on a long-term lease, with PDG investing in and operating the facility.
PDG was set up with the help of Warburg Pincus in 2017 and is currently building or running 20 data centers across China, Singapore, India, and Indonesia. At full build-out, its currently planned portfolio will total more than 600MW.