Data center firm QTS is to build a new campus in South Carolina.
The South Carolina Office of the Governor this week confirmed QTS will establish operations in York County.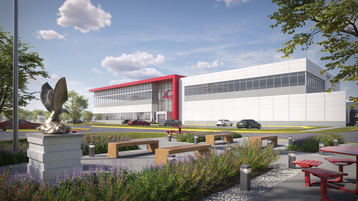 The $1 billion project, located near Hands Mill Highway and Campbell Road in unincorporated York County, will be the company's first project in the state.
The Governor's office said the site will "utilize carbon-free power when feasible" and leverage technology that uses zero water for cooling its customers' environments.
Details around the number, size, and capacity of the data center buildings are unclear at this time. The site on Hands Mill Highway is largely greenfield land.
On its website, QTS said the 400-acre site would offer "hundreds" of megawatts of capacity.
"Designed to meet rapid, large-scale deployments in the strategic hub of Charlotte, North Carolina, QTS Charlotte will provide significant capacity to support ongoing growth," the company said on its website
York County is in northeast South Carolina, east of Greenville and Spartanburg, and close to Charlotte over the border in North Carolina.
News of a major data center project in York County surfaced in June 2023 under the name Project Cobra. QTS then acquired some 400 acres in the county in July.
"QTS is pleased to announce our expansion in York County, SC with a new campus that supports growth for QTS and its partners," said QTS CEO Chad Williams. "Our investment in York County is consistent with QTS' strategy of securing access to infrastructure at scale in strategic markets to support accelerating demand from our hyperscale, enterprise, and government customer base. We look forward to partnering with the community along with local and state leadership, further enhancing South Carolina as a leading technology center."
Gov. Henry McMaster added: "With QTS Data Centers establishing operations in York County, South Carolina continues to add to its already impressive technology industry. We celebrate their significant investment and look forward to seeing the positive impact they will have in York County and across the state."
Google has a presence in both South Carolina in Berkeley County to the south of the state, and North Carolina in Caldwell County. Microsoft is developing data centers in North Carolina in Catawba County. Meta has a campus in North Carolina's Rutherford County, while Apple operates a site in Catawba County.
Local operators DC Blox and Dartpoints have a presence across South Carolina, while other operators including TierPoint and Flexential operate sites over the border in Charlotte.
Blackstone-owned QTS currently has no presence in South or North Carolina. It does have two sites in neighboring Georgia in the Atlanta area, and a third campus in development in Fayetteville.
More in Construction & Site Selection