Honeywell-owned quantum computing firm Quantinuum has appointed a new chief executive officer.
The company announced that Rajeeb (Raj) Hazra has been appointed to the role of CEO, effective immediately. He replaces Ilyas Khan, who will remain at the company.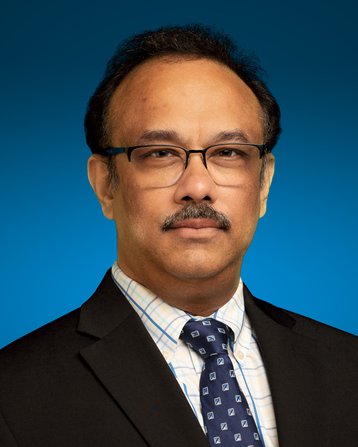 "Raj is uniquely qualified for this role, having proven his technical abilities in advanced technologies and supercomputing in both small and large organizations," said Khan. "His vision and leadership skills are exactly what we need to continue to accelerate our impact in the quantum computing sector, as well as society as a whole."
Hazra joins from Micron Technology, where he was SVP and GM of the compute and networking business unit. He previously spent 25 years at Intel Corporation.
"I'm honored to step into the CEO role, where I'm excited to focus on helping Quantinuum grow and drive the innovations that will transform the way quantum computing positively impacts the world," Hazra said. "By building on the solid foundation that Ilyas and the team have laid, we will continue to accelerate Quantinuum into the future."
Despite stepping down, current Quantinuum CEO Ilyas Khan will remain at the company, becoming the firm's first chief product officer and vice chairman, as well as remaining a member of the board of directors.
T-Mobile announces new president of technology
T-Mobile US has named chief network officer Ulf Ewaldsson as president of technology. His predecessor, Neville Ray, is to retire from the role later this year.
Outgoing president Ray has been at T-Mobile for more than 23 years; he took over as chief technology officer in 2010 and became president of technology in 2019. He previously held roles at Pacific Bell Wireless and Western Wireless Corp subsidiary VoiceStream Wireless subsidiary, which was acquired by Deutsche Telekom in 2001 and renamed T-Mobile USA.
"Under Neville's network leadership we have accomplished so much together, and it's amazing to think that milestones he's helped T-Mobile achieve – the many network firsts, breakthroughs, and innovations – have brought us to where we are today, taking the crown as the nation's overall network leader," said T-Mobile CEO Mike Sievert.
Ewaldsson joined T-Mobile in 2019 as SVP of technology transformation. He was previously at Ericsson for 12 years, holding multiple roles culminating as advisor to the CEO. As CNO at T-Mobile, he led a nationwide field team responsible for build, operation, and maintenance of T-Mobile's network.
"This has been a thoughtfully planned succession and I am thrilled we have an excellent leader in Ulf Ewaldsson to lead our Technology teams. When Ulf joined T-Mobile four years ago, he brought years of experience and deep network strategy leadership capabilities that allowed him to hit the ground running and bring our leading 5G network to life. That's exactly what he did – and what he will continue to do as President of Technology, leading the best team in our industry," Sievert continued.
Equinix selects new Ireland MD
Colo giant Equinix has appointed Peter Lantry as its managing director for Ireland.
He will lead Equinix's business in Ireland, working with customers to support their growth and targets, whilst driving the key environmental and community engagement initiatives.
He said: "I feel very privileged to be joining a company that is so clearly committed to helping the country and its thriving digital economy grow sustainably. Joining Equinix presents a unique opportunity to champion the important work the company does in underpinning Ireland's growth through its unique global platform and digital services, as well as helping customers to meet their ambitious sustainability targets."
Lantry joins from Hitachi Energy, where he was Ireland MD and global data center lead. He previously worked at grid operator EirGrid for more than 15 years.
Judith Gardiner, VP for growth and emerging markets at Equinix, said: "I'm delighted to be welcoming Peter to Equinix in his new role as Managing Director for Ireland. Ireland continues to be an extremely important market for both Equinix and the digital infrastructure sector, and so it was vital we found someone with the caliber and experience of Peter, who can build on our success and continue to grow the business in Ireland, sustainably and strategically."
Google appoints new strategic negotiator
Ricardo Orcero has left Meta to become senior strategic negotiator at Google. He was previously involved in Meta's network investments for its subsea cables in EMEA, leading its investments in a number of cable projects.
"It is time to spread my gratitude and thank all of you who entrusted me and lent me your support to lead the strategy and investments in a historical record number of submarine cable systems during my tenure at Meta: #MAREA, #Havfrue, #Havhingsten, #AMITIE and #2Africa, totaling over 67,000 cable-km," he said recently on LinkedIn.
Prior to Meta, Orcero held roles at Cogent Communications and LamdaNet.
JLL selects data center project leads across EMEA
JLL has made a number of appointments to strengthen its data center leadership in Europe and Middle East.
The company has appointed Luigi Passariello as data center projects lead for southern Europe based in Madrid, Madhusudhan Nagaraj for Germany based in Frankfurt, and Larry Baker for the Middle East and Africa based in Dubai.
Passariello will lead JLL's data center projects in Spain, Portugal, and Italy; he joins from energy company Engie Solutions in France. He previously held roles at GE, Telefonica, and Movilnet.
Madhusudan joins JLL from Vantage Data Centres, where he was a project manager based in Frankfurt. He was previously a project manager at Turner & Townsend before that.
Based in Dubai, Baker has held roles at a number of firms including Xcom Associates, WBS Data Center Solutions, Structure Tone, Aecom, Johnson Controls, and more.
Jonathan Kinsey, JLL's EMEA head of data center services, said: "The European, Middle East, and African data center markets continue to experience significant growth. Data centers are crucial infrastructure to enable the worldwide digitization of social, business, and governmental activity, and as the demand for capacity increases, the need for dependable, efficient, and sustainable data centers becomes even more critical."
Kinsey added that JLL was strengthening its EMEA-wide specialist capability, providing expert project and development services for data center new build, refurbishment, and fit-out throughout the EMEA region.
AWS selects new Mexico director
Amazon has promoted Rubén Mugártegui to general director of AWS Mexico. Joining AWS in 2018, he was previously director of enterprise for Latin America at the company and based in the US.
"I am thrilled and excited to share that I have accepted the amazing opportunity to be the Country Manager of Amazon Web Services in Mexico," Mugártegui said on LinkedIn. "I will go back to my beloved country, along with my family, to start this new chapter in my career grateful, humble, and thoughtful about the huge responsibility that this represents to impact the local communities and future generations positively."
Prior to AWS, Mugártegui worked at Rackspace and Microsoft. He replaces Luis Velasco, who had been country director since 2020. He said: "Dear Partners, colleagues, and team. I want to thank you for the support you have given me in these almost three years to take Amazon Web Services (AWS) Mexico to an indisputable position of leadership in the cloud services and solutions with which we work in our portfolio."
Dell selects new APJ presidents
Dell Technologies has announced the appointment of Peter Marrs as the new President of its Asia Pacific & Japan (APJ) region.
He will lead the region's growth and development across the company's technology portfolio and be responsible for driving the corporate strategy and sales across Australia, New Zealand, India, Japan, Korea, and Southeast Asia.
"The opportunities in APJ are immense, and I'm thrilled to lead Dell business in the region," said Marrs. "We have a talented team, strong portfolio of solutions, and a culture that fosters innovation. We are well placed to help our customers and partners in APJ succeed on their digital transformation journeys, and drive our growth in the region."
He takes on the role effective immediately, succeeding Amit Midha, who will be leaving Dell to pursue an opportunity outside of the company.
Marrs joined Dell in the year 2000, and has held various positions across the company in the US and Asia, most recently as SVP of global sales. He was previously with Xerox.
Based in Singapore, Marrs will report to John Byrne, President of Sales, Global Theaters, and Dell Technologies Select, Dell Technologies.
"I'm excited to have Peter lead our business in this very important region. He has more than a decade of experience across APJ, and a deep understanding and appreciation for Dell's customers and partners in the region. With his strong track record on delivering results, I am confident that Peter will help shape the future of Dell in APJ," said Byrne.
Oman's Datamount announces new CEO
Omani colocation firm Datamount has appointed Abdulmonem Al Futaisi as its new CEO. Abdulmonem was previously COO at Omani ISP Awasr.
"I am delighted to take on the role of CEO and look forward to developing the company further by supporting the government's digital transformation plans and Oman Vision 2040. Datamount will cater to the increasing needs of the business sector in the Sultanate by continually expanding its portfolio of products and services in addition to providing cloud services and managed services such as managing clients' mains systems and operating systems, database management, network management, and business continuity services such as disaster recovery backup and high-security data protection," said Abdulmonem.
Datamount operates a data center in the capital city of Muscat.
"It was the board's keenness to select a young Omani with the requisite competencies to lead the growth and expansion of Datamount, especially when the new data center in Muscat is reaching its final stages of completion," said Dr. Tahir Al Kindi, chairman of the board of directors of Datamount.
Prime appoints new VP of product development
Prime Data Centers has appointed Richard Langbein as VP of product development.
He joins from Aligned, where he was director of special projects. He also previously held roles at Nova Mission Critical and systems integrator Convergint Technologies.
Switch appoints new chief construction officer
Switch Inc. has appointed Joshua Ewing as its new chief construction officer. Joining the company in 2015, he was previously EVP of construction at the company. Prior to Switch, he was with electrical construction and engineering firm GSL Electric Inc.