Pan-African data center firm Raxio has secured up to $170 million in sustainability-linked debt, with the interest repayments tied to pre-agreed water and energy targets.
The company this week announced that it has secured a multiple-tranche sustainability-linked debt facility, including $110 million from Proparco and the Emerging Africa Infrastructure Fund (EAIF), a Private Infrastructure Development Group (PIDG) company.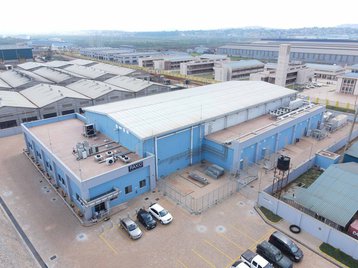 The financing will be used to 'accelerate' Raxio's continued roll-out across Africa and support the construction and expansion of existing and new facilities in the region.
Raxio didn't define the sustainability targets of its loans but said they were tied to the water and energy use efficiency of its sites.
Robert Mullins, CEO of Raxio Data Centres, said: "This is a momentous milestone for Raxio, and we are very excited to have found in Proparco and EAIF the ideal long-term partners, with common objectives and values. Raxio is committed to building a digital Africa, and this financing gives us the runway we need to continue executing our strategy."
Established in 2018, Raxio Group is part of the US-based Roha Group investment firm. The company received a $48 million investment in 2021 from Meridiam.
Last year Raxio broke ground on data centers in Abidjan, Côte d'Ivoire; Maputo, Mozambique, and Kinshasa, in the Democratic Republic of Congo (DRC). The company also has data center developments in Ethiopia, Tanzania, Angola, and Uganda.
Ariane Ducreux, head of energy, digital, and infrastructure at Proparco, said: "We believe digital infrastructure can contribute to the reinforcement of social ties and reducing socio-economic inequalities. This is especially true in sub-Saharan Africa where the lack of neutral and shared data centers undermines the potential of the local digital services markets.
"Therefore, we are proud to support Raxio's first development phase of seven carrier-neutral data centers across Africa, together with long-standing partners like EAIF, Meridiam, and Roha. With this sustainability-linked loan to Raxio, we also aim at fostering data centers with exemplary environmental sobriety and security levels."
Proparco is a subsidiary of Agence Française de Développement Group (the French Development Agency), providing funding and support to businesses and financial institutions in Africa, Asia, Latin America, and the Middle East.
In its own release, Proparco said it was loaning Raxio $40 million, which will be used to provide up to 11MW of additional data processing and storage capacity across seven locations.
PIDG is an infrastructure project developer and investor channeling private investment into sustainable infrastructure in sub-Saharan Africa, and South and South-East Asia. Ninety One manages the EAIF for PIDG, which provides debt for infrastructure projects. Previous investments include $20 million towards Axian Telecom in 2022. $10 million in tower firm Helios in 2014, and a number of renewable energy projects across the continent.
Sumit Kanodia, investment director at Ninety One, EAIF's fund manager, said, "Our partnership with Raxio responds to the urgent demand for affordable internet connectivity in the region and signifies a joint ambition to narrow the digital divide in several high-potential economies by filling a vital funding gap."
Whether general-purpose sustainability-linked loans or project-specific green bonds, sustainability-linked financing is quickly becoming a common trend amongst data center and telco firms. The likes of Equinix, AirTrunk, Verizon, Aligned, Telefónica, NTT, KPN, Baidu, Atos, Digital Realty, Flexential, and Nabiax have all raised new green-tied funds or converted existing debt to include interest rates tied to sustainability and ESG goals.