Red Sea Global (RSG) and Saudi telco Zain KSA claim to have launched the world's first zero-carbon 5G network at the Six Senses Southern Dunes resort at The Red Sea.
In a joint statement, RSG and Zain KSA revealed that the 5G network is powered by 100 percent renewable energy from over 760,000 solar panels that Red Sea Global has built to power the entire 28,000 sq km destination.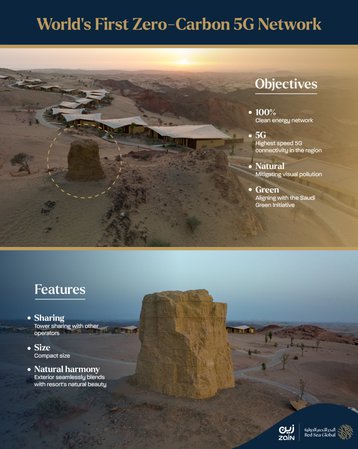 RSG, which is owned by the Saudi Public Investment Fund (PIF), said that the 5G network has been developed to support the Kingdom's Vision 2030, which sets out to elevate clean energy reliance, curbing carbon emissions, and safeguard the environment. 
The company specializes in developing tourism destinations, is set to open its Six Senses Southern Dunes resort later this year.
According to RSG, The Red Sea will consist of 50 resorts, offering up to 8,000 hotel rooms and more than 1,000 residential properties across 22 islands and six inland sites once completed.
RSG notes that its zero-carbon 5G network is designed using 3D printing technology, while the towers (see picture) have been built to blend in with the landscape.
"By prioritizing tech for sustainability through innovation and the development of cutting-edge digital infrastructure, we can effectively turn these values into reality," said Sultan Bin Abdulaziz Al-Deghaither, CEO of Zain KSA.
"Within this approach, we are committed to localizing innovation and promoting the use of locally sourced content and have successfully constructed the 5G towers for this project within Saudi Arabia."