The Dutch Datacenter Association which was established last year has just released its second annual industry report. The analysis highlights the strong growth of the industry in recent years, and points towards a bright future - as long as government regulation is light and investment is heavy.
The trade association says that the sector saw an annual growth of 15 percent for the past five years, and double digit growth is expected for the foreseeable future.
The magic Dutch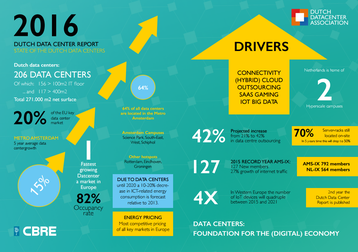 DDA cites the 'Digital Gateway of Europe' as a key reason for the industry choosing the Netherlands as a data center location. The Digital Gateway, which aims to make the country Europe's Internet infrastructure darling, was named the third key hub for the Dutch economy (along with the Port of Rotterdam and Schiphol Airport) by its parliament in late 2015.
The gateway is home to three of the largest internet exchanges in the world, including the second largest, AMS-IX, and seventh, NL-IX.
According to research carried out by analyst firm PB7, two thirds of all data center operators in the Netherlands expect to rent out more meters over the next 12 months, with 18 percent expecting a decrease.
The report states: "In both the internationally oriented Amsterdam Metro and the regional datacenter markets, we predict long term continued growth. The data explosion and continued rise of online services drive a steady data center demand."
But for the region's data center news to remain rosy, "focus, support and a balanced approach by our government is needed for this fast growing industry."