The Greater London Authority has told developers that new housing projects in West London could be banned till 2035, because data centers have taken all the electricity capacity.
New projects are being rejected in three west London boroughs because the grid has run out of capacity for new homes, the GLA said according to a report in the Financial Times. The Authority says it will take more than a decade to bulk up grid capacity to allow new developments.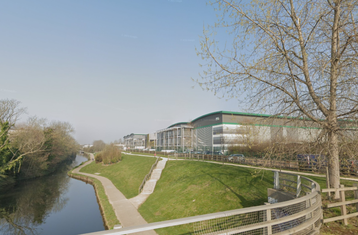 Three boroughs - Hillingdon, Ealing, and Hounslow - will have to wait a decade for electricity supplies to reach a level where new homes can be built, the GLA says, in a note to developers seen by the FT. Applicants for electrical power have been told there is not enough capacity for a new connection until 2035.
The GLA says data centers are to blame for acute pressure on the west London grid, as many have been built along the M4 corridor, close to fiber optic cables. A single data center can use the same amount of electricity as thousands of homes, leaving a shortage for other customers.
Data centers use electricity "equivalent of towns or small cities," the GLA note says, "to power servers and ensure resilience in service". The National Grid and utility SSEN are upgrading power networks, but the work will take years.
London has set targets for house building which depend on activity across the city, and the three boroughs built 11 percent of London's housing supply in 2019-2020 (some 5,000 homes). This means the ban will increase an already chronic housing shortage, the FT says.
Major recent developments in the area include Virtus' Stockley Park campus, which opened three years ago with four data centers, an Ark Data Centres development in Park Royal and numerous facilities around Heathrow.
UK colocation watcher Tim Anker says the issue has been has been talked about for some time: "Do you remember the 'London is running out of power story' in the run up to the 2012 Olympics? Yet here we are now with around 1GW of built capacity, or heading that way."
Update: A spokesperson for the Mayor told DCD that Mayor Sadiq Khan has been attempting to raise the issue for some time with Government, while talking to power providers to try and find ways to avoid power shortages:
"The Mayor is very concerned that electricity capacity constraints in three West London boroughs are creating a significant challenge for developers securing timely connections to the electricity network, which could affect the delivery of thousands of much-needed homes.
"Sadiq [Khan] wrote to the Government weeks ago requesting a meeting to discuss electricity capacity in west London but the request was declined. In the midst of a housing crisis, he is calling on ministers to work with him to resolve this issue urgently.
"The Mayor's team is also working closely with the network providers responsible, to seek solutions to mitigate the potential delays and unlock the issue. These solutions do not affect planning permission."