The majority of American businesses involved in data center operations are set to increase their use of colocation facilities over the next two years, according to research by mission-critical equipment specialist Vertiv (formerly Emerson Network Power).
The report identified scalability, edge connectivity and price transparency as some of the most important factors for potential colocation customers.
It also noted that future IT application deployments will become more diverse and complex, pushing colocation providers to offer more value-added services and not just space, power and cooling.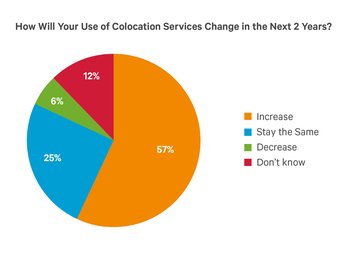 A bigger pie
In this survey Vertiv asked 226 US enterprise data center managers regarding their use of colocation services and their future needs for services. The company used a fairly broad definition of colocation, including multi-tenant data centers, off-premise computing, managed hosting and cloud hosting data centers.
According to the results, 47 percent of respondents to the survey use more than one type of data center in their daily operations.
Fifty-seven percent of respondents indicated that they will increase their usage of colocation and cloud hosting data centers within the next two years.
Simplified capacity scaling was identified as a primary reason for moving into colocation environments, followed by the ability to choose from a selection of network carriers, and lower network latency.
Among the barriers to higher levels of colocation adoption, respondents cited cost (45 percent), security concerns (31 percent) and issues with staffing (18 percent).
"The colocation market is going through substantial change, as providers seek ways to cost-effectively meet customer needs that are growing in complexity and scale," said Amy Johnson, Americas vice president for marketing and strategy at Vertiv.
"Vertiv believes that innovations in data center power, cooling and infrastructure management can help colocation providers operate at peak performance by reducing operational costs, eliminating stranded power and cooling capacity, support scalability and provide greater insight into data center conditions and operations. This in turn can help colocation providers improve customer SLAs so they can better serve their customers."