Canadian real estate firm Regional Group has acquired an office and data center complex in Ottawa, Ontario.
The company this week announced the acquisition of Qualicum Centre, a three-building office campus located at 2932, 2934, & 2936 Baseline Road from Manulife Investment Management.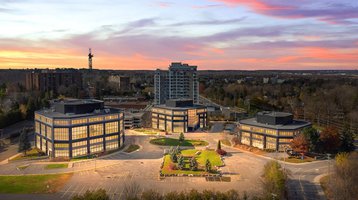 Terms of the deal were not disclosed; the property will be leased and managed by Regional Group. A Rogers spoksperson reached out to DCD to clarify that 'the Rogers data center was not sold, only the building that it's housed in.'
Originally constructed in 1988 & 1989, buildings total 224,151 sq ft (20,800 sqm) gross floor area and have recently undergone extensive modernization & upgrades.
One of the tenants is Rogers Communications, which operates its Rogers OTT DC2 facility out of 2934 Baseline Rd. It is one of three the company operates in Ottawa, and one of 12 colocation facilities Rogers offers services from.
"We are delighted to be able to welcome such an iconic property to our growing portfolio and look forward to fostering partnerships with existing tenants — while continuing to unlock the real estate value of this impressive property," said Tal Scher, VP, Asset Management, Investor & Government Relations at Regional Group.
"With an emphasis on value-add real estate & mid-high rise development projects, Regional Group has become known for sourcing opportunity in the marketplace to support continued growth and evolution. The acquisition of this high-profile, and sustainable property is a notable achievement for the firm, and I am very proud of our team's ability to identify and deliver value to our stakeholders," added Sender Gordon, President & CEO, Regional Group.
According to Renx, around one-third of the eight-acre property is comprised of commercially zoned land that's now occupied by a surface parking lot, but could be developed in the future.
"We're not really sure about the timeline as to when, but there's excess development land that can be used for future development potential, whether it's commercial office or residential," said Regional Group senior director of acquisitions Sachin Anand.