Fire broke out at a QTS data center in New Jersey in the early hours of Wednesday November 23.
The fire was reported at 02:45 am, and extinguished by 05:00 hours, with no reported casualties. However, the local fire department reports the fire was extinguished with heavy flows of water, and extra care had to be taken on the site due to flammable building materials on site to build an extension to the facility.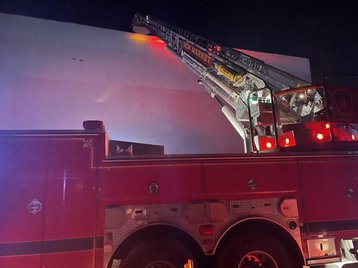 DCD has asked QTS for more information, but as yet we have heard no reports of outages.
New Market Fire Department's Facebook page reports that it dispatched a truck to a "commercial structure fire" at QTS's data center at 101 Possumtown Rd, Piscataway, where it was joined by a truck from the neighboring River Road Fire Department.
There was a heavy fire on the roof of the building, which was extinguished using a "master stream" - a 500 to 2,000 gallons-per-minute flow of water - delivered from an aerial platform.
It is not known whether this water penetrated into the data hall, or whether cooling or power distribution systems were affected by the fire. From satellite images of the facility, it seems that the roof held extensive solar panels, rather than HVAC, generators, or other equipment which is sometimes placed on top of data centers.
One of the Fire Department's images shows what may be a number of solar panels destroyed by the fire.
The fire departments had to spend extra time on site for "overhaul", which means checking there was no fire in the extensive flammable building supplies on site. New Market FD reports "pallets of roofing material including tar", which were intended for a two-story, 90,000 sq ft extension that began construction in February.
"The cause of the fire was not immediately known," reports local news site TapInto. No one was injured, said officials.
The data center was acquired from Dupont Fabros in 2016 and sits on a 38-acre campus which already holds two facilities. The day before the fire, QTS tweeted an invitation to tours of the site, which is powered by renewable energy.
TapInto reports that other fire departments called to assist included the Holmes Marshall Fire Department, North Stelton Volunteer Fire Company, River Road Fire Company, South Plainfield Volunteer Fire Department, and the East Franklin Fire Department.
Other agencies on the scene included the Piscataway Office of Emergency Management (OEM), the North Stelton Rescue Squad, and Hackensack Meridian Health JFK Emergency Medical Services.
"Thank you to all our mutual aid companies who responded to assist us," said New Market FD.
More in Colocation & Wholesale