Russia's Rostelecom is reportedly considering the development of a new data center in Armenia.
Armenian Minister of Economy Vahan Kerobyan and his deputy Narek Teryan this week met with Rostelecom President Mikhail Oseevsky to discuss a number of potential projects in the country.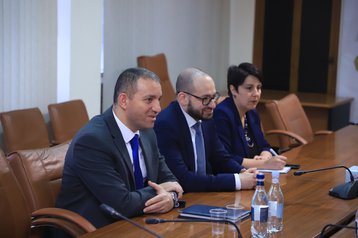 "During the meeting they discussed the company's programs in Armenia, new strategic projects and investment initiatives related, in particular, to the construction of [a] data center, improvement of Internet services in Armenia," said the Armenian Ministry of the Economy.
Further details about locations, specifications, or timelines were not shared.
CJSC GNC-ALFA, a subsidiary company of Rostelecom in Armenia, provides Internet access, fixed telephony, IP TV, and other services in the country. Founded in 2007, Rostelecom acquired a majority stake in the company in 2012.
The news seems to be an about-face for Rostelecom, which last year was reportedly looking to sell its Armenian unit.
The company operates Russian data centers in Moscow, Novosibirsk, St. Petersburg, Udomlya, Yekaterinburg, and Chita. Further facilities are planned in Murmansk. As well as opening a number of new facilities last year, the company recently announced plans for a 55MW hyperscale data center in Moscow.
In June Rostelecom said it had suspended the development of a number of data centers due to a lack of access to equipment. The partially state-owned telecoms and colocations provider said that it could no longer build facilities in Russia's western 'Central Federal District' due to parts issues.
The company was instead focusing on using its available equipment to finish projects that are near completion, including in Moscow and St. Petersburg. Although since then the company announced plans for a backup data center for the local government of Yekaterinburg.
Sanctions imposed on Russia in the wake of its invasion of Ukraine have impacted the country's data center industry. The country faces a shortage of IT hardware as well as an exodus of IT workers. Rostelecom has an even harder job getting equipment than most Russian data center firms as it is also sanctioned by the US and UK governments, while the EU has sanctioned the company's president.
Over the summer, several local operators said they are or would consider building facilities outside the country – yet continue serving Russian companies – in order to avoid supply chain issues.
Dmitry Isaev, director of cloud solutions at Softline Global Services, said the company was launching three data centers outside of Russia. He did not name the countries, but said that one of them is nearby, and two further abroad. "All countries are friendly to the Russian Federation," he added.
Softline currently has a data center in Kazakhstan, but Isaev said foreign data centers will be deployed primarily towards the Russian market.
"There is a shortage of equipment in Russia. We have enough for a year, but what will happen after is unknown, and we are launching data centers for a long time. In the current situation, we can assume that vendors will never return. Based on this, we must take such steps to ensure the continuity of business located in Russia," he said.
Dmitry Yusupov, head of the IXcellerate business development group, said that at the moment the company has no plans to expand the service to other countries, but would do so in the right situation.
"If a customer contacts us and wants us to build a data center for him in one country or another, and at the same time he is ready to invest in it, in a year and a half we will build a data center outside of Russia," he said.