Russian supercomputing company RSC Group has installed a liquid-cooled high performance computing (HPC) system at the Joint Institute for Nuclear Research (JINR) in Dubna, Moscow Oblast. What makes this machine particularly interesting is the fact it uses hot water for cooling - as hot as 63°C (145°F) at the entry point.
Named after the former Director of JINR's Computing and Automation Lab, Nikolay Nikolayevich Govorun, the system is expected to have a peak performance of 500 teraflops (double precision).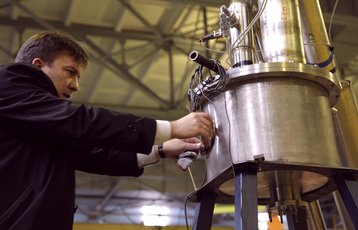 Running Govorun
"It's great to note that we launch the new heterogeneous supercomputer named after Professor Govorun at JINR's Information Technology Laboratory in the year of 60th anniversary of commissioning of the first Ural-1 supercomputer at our institute in 1958," Vladimir Vasilyevich Korenkov, director of the information technology laboratory of JINR, said.
"Our scientists and research groups now have a powerful and modern tool that will greatly accelerate theoretical and experimental research of nuclear physics and condensed matter physics."
Govorun supercomputer uses RSC's Tornado servers equipped with Intel Xeon Gold 6154 processors, 72-core Intel Xeon Phi 7290 coprocessors, and Intel DC S3520 SSDs for storage.
JINR's website adds that Govorun is a two-component HybriLIT heterogeneous platform that can be connected to GPU nodes based on Nvidia's DGX-1 volta platform.
The Tornado servers rely on direct liquid cooling with a high temperature cooling agent that is up to 63°C (145°F) at cabinet entry point. The hot water mode uses dry coolers running at up to 50°C (122°F) ambient temperature and freon-free refrigerant circuits and chillers. This, the company claims, means a power usage effectiveness (PUE) of less than 1.027 - i.e. the system spends less than three percent of consumed power for cooling.
"We are glad that RSC's innovative HPC solutions will help to advance the Russian science and to improve the efficiency of international scientific research cooperation that has a long history in JINR," Alexander Moskovsky, CEO of RSC Group, said.
JINR was founded in 1956 as an international research center for nuclear sciences, including particle physics, nuclear physics and condensed matter physics. Originally formed by 11 countries, the USSR contributed 50 percent of its funding, and the People's Republic of China - 20 percent.
Today, the institute has 18 state members - Azerbaijan, Armenia, Belarus, Bulgaria, Vietnam, Georgia, Kazakhstan, Democratic People's Republic of Korea, Cuba, Moldova, Mongolia, Poland, Russia, Romania, Slovakia, Uzbekistan, Ukraine, Czech Republic. It also has government-level Cooperation Agreements with Hungary, Germany, Egypt, Italy, Serbia and South African Republic.