Tower firm SBA Communications has launched a new Edge data center at a tower location in the Dallas Fort Worth area of Texas.
"SBA Edge has exciting news to share! Our new, state-of-the-art Edge data center in Arlington, Texas, is operational," the company said on LinkedIn this week.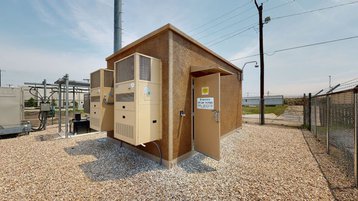 Details of the precise location and specifications of the data center weren't shared.
SBA CEO Jeff Stoops has previously said the company's Edge roll-out will be "mostly 6x12 or 10x20-foot buildings that look like the traditional wireless shelters that start out with two or three rack capacity and can be expanded."
In November 2022, Stoops said the company had "30 to 40" Edge sites in operation or development. In the company's most recent earnings call in May 2023, that number had increased to "somewhere between 40 and 50" sites.
Founded in 1989 and headquartered in Boca Raton, Florida, SBA is an owner and operator of wireless communications infrastructure with operations in sixteen markets throughout the Americas, Africa, and the Philippines. The company has some 17,000 towers in operation in the US.
The company began exploring Edge computing modules at tower sites in 2018 in partnership with Packet before its acquisition by Equinix.
SBA acquired JaxNAP, a data center located in Jacksonville, Florida, in August 2020. At the time it said it aimed to use that facility, alongside its previous purchase of Continuum Data Center in Chicago, to establish a distributed computing network. One of the first places the companies trialed an at-tower deployment was Foxborough, Massachusetts. Last year SBA acquired a data center in São Paulo, Brazil for $49.2 million.
SBA isn't the only tower company to look at rolling out Edge facilities this year. American Tower CEO Tom Bartlett has previously said the company has "identified over 1000 sites that with power and interconnection could support upwards of at least a megawatt of capacity."
Prior to acquiring CoreSite, American Tower had launched a number of small tower-side Edge facilities.