Scale Computing has raised $55 million in a new funding round, taking its total raised to more than $200 million.
The Edge computing firm, which provides on-premises Edge computing hardware and software/virtualization solutions as well as remote management tools, announced the funding round this week, led by funds managed by Morgan Stanley Expansion Capital.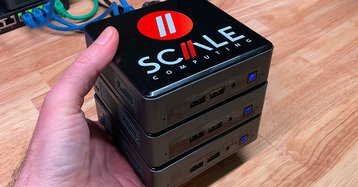 The company said it would use the proceeds to 'expand its leadership position in Edge computing', including investments in people, R&D, and restructuring of debt.
"We are thrilled to help the company build upon their success with this funding," said Pete D. Chung, Managing Director and Head of Morgan Stanley Expansion Capital. "The technological advantage of Scale Computing's Edge computing platform solves endemic customer problems through enhanced resiliency, manageability and efficacy of their IT infrastructures."
Founded in 2007, Indianapolis-based Scale has raised around $211 million from 11 funding rounds. Previous backers include Elevate Ventures, Lenovo, Allos Ventures, and Runway Growth Capital.
Jeff Ready, CEO of Scale Computing, added: "Management of the Edge is an inverted problem from management of the data center. A typical data center deployment represents hundreds or thousands of servers at one or two locations. On the other hand, a typical Edge deployment is a handful of servers each at hundreds or thousands of locations. This requires a completely different approach to deployment and management, and Scale Computing has continually met the challenges of this fast-growing market. A growing number of enterprises are implementing the tremendous time and cost savings found in SC//Platform for the edge and we are proud to have the support of Morgan Stanley as we continue to expand."