Schneider Electric has announced a partnership to develop liquid-cooled systems for AI and high performance computing, using technology from immersion cooling pioneer Iceotope, and integration by Avnet.
Schneider gave no dates for any product releases based on the partnership, announced at its Innovation Summit in Barcelona today, but pointed out that AI and HPC have higher energy demands and ultimately liquid cooling will be cheaper than traditional air-cooling,
It is five years since Iceotope first announced a partnership with Schneider, when Aster Capital, a VC firm whose sponsors include Schneider, led a $10 million round of investment in Iceotope.
Playing it very cool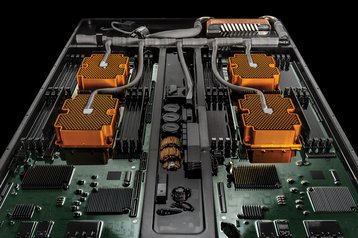 In 2014, when Aster invested, Iceotope's products consisted of customized blades with a liquid circulation system. Since then it has worked with generations of specialized server racks, and currently demonstrates a chassis-level system which uses standard hardware, partially immersed in coolant, within a rack-mounted tray (see picture). Now the company offers intellectual property (IP) to multiple players.
"We welcome this announcement," David Craig, CEO of Iceotope, told DCD. "We find Schneider and Avnet to be excellent partners." Schneider has a global resellership with Iceotope, and has worked with the company since the investment round, he explained.
However, Iceotope has complete freedom to work with other companies, Craig pointed out: "We don't make products, we are an IP house. We have a selection of options, covering a range of liquid cooling technologies which can be used for everything from compute to spinning disks, everywhere from hyperscale to the Edge."
Iceotope has "deep engagements" with other players, but no other partnerships that can be announced at present, said Craig.
Schneider has published a blog written with help from Iceotope, and sees demand for liquid cooling approaching, as the power requirements of data centers are rapidly going up, thanks to the emergence of GPUs as a basis for AI processing and other applications. Schneider says an immersion cooled solution can save 15 percent on capital expenditure and 10 percent on energy compared with a traditional air-cooled solution. Over 20 years, this would lead to an 11 percent saving on total cost of ownership (TCO).
"Compute intensive applications like AI and IoT are driving the need for better chip performance. Our quantitative analysis and testing of liquid cooling approaches shows significant benefits to the market," said Kevin Brown, CTO and SVP of innovation, secure power, Schneider Electric.
"Largely driven by the recent explosion of IoT, the processing power needed for workloads like AI in data centers requires advanced solutions to keep connected systems operating efficiently," said Scott MacDonald, global president, Avnet Integrated. "The development of a liquid cooling technology solution offers customers the performance needed to deliver on these growing compute demands."
More from Schneider Electric (Life Is On)