Amazon's first wind project in Scotland, announced in April, has come on stream.
The 50MW Beinn an Tuirc 3 wind farm on the Kintyre peninsula was built by ScottishPower Renewables, and consists of 15 turbines. Amazon is buying all the power through a power purchase agreement (PPA), making this one of the largest wind farms in the country to be built without government support.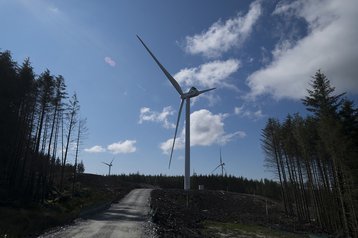 The project, which will deliver 168 GWh of energy per year, is one of four new renewable projects in the UK funded by Amazon, which add up to 529MW of clean power. The announcement that it is open for business is clearly timed to coincide with the COP26 climate conference in Glasgow, due to open on Sunday.
"This is the first of our projects to come online in the UK, and is part of a series of investments we are making to power our infrastructure with 100 percent renewable power by 2025, five years ahead of our original 2030 target," said Kenneth Matthews, head of energy, EMEA at Amazon Web Services (AWS). "Amazon's commitment to buy the power generated from these projects enables the developer to finance and build them. It sends a clear message that a project of this size can be delivered without public subsidies."
Separately the Scottish government has announced a desire to get a further 13GW of onshore wind power by 2030, through other new sites and updating existing wind farms with more advanced turbines, the BBC reports. Scotland has 8.4GW of installed wind generation, although 2.5GW of this is due to be retired before 2030.
Scottish Energy Secretary Michael Matheson said: "We need bold action to tackle the climate emergency. Onshore wind is one of the most cost-effective forms of large-scale electricity generation and is vital to Scotland's future energy mix as we transition to a net-zero economy."
Lindsay McQuade, chief executive of ScottishPower Renewables, which built the Amazon-funded wind farm. told The Scotsman: "If we're going to reach net zero over the next 30 years, we need to quadruple the amount of renewable energy produced in the UK so we can move away from petrol and diesel cars; electrify public transport; get rid of gas boilers and move to electric heating for our homes; and lower emissions from heavy industry and the goods and services we rely on every day."
Morag Watson, policy director at industry group Scottish Renewables told the BBC: "There will be significant challenges to overcome, particularly in the capacity of the planning system to deliver timely consents. But as we head into COP26, industry looks forward to working with the Scottish government to overcome these barriers to cement Scotland's position as a world leader in both onshore wind and action on climate change."
Amazon is Europe's largest corporate buyer of renewable energy with plans to buy 2.7 GW, producing more than 8.4 million megawatt-hours (MWh) of renewable energy annually.
Amazon says this energy would be enough to power 2.2 million average European homes for a year - however, it isn't powering homes, it is actually earmarked for Amazon. "The energy generated from these projects will power Amazon and AWS data centers, corporate offices, and fulfillment centers," says the release.
The announcement doesn't mention the further problem. AWS is still adding to the troubles of the electricity grid, because the power it is funding will be produced intermittently by wind and solar plants, while its AWS data centers use power continuously, so national grids still have to find a way to store energy and balance the power needs of AWS and other consumers.