IoT firm Semtech has completed the acquisition of Canadian IoT company Sierra Wireless for $1.2 billion.
The all-cash transaction was finalized last week, with Semtech noting that the deal will almost double its annual revenues.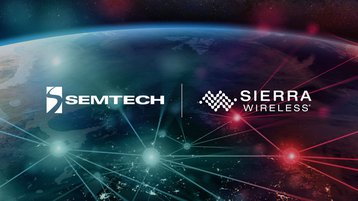 In a press release, the company forecasts that the acquisition will add around $100 million of high-margin IoT Cloud services recurring revenues.
"Sierra Wireless brings nearly 30 years of leadership in cellular IoT and a strong and diverse device-to-Cloud IoT solutions portfolio. Combined with Semtech's LoRa-enabled end nodes, we believe we are very well positioned to deliver a highly differentiated, end-to-end platform to enable the transformation to a smarter, more sustainable planet," said Mohan Maheswaran, Semtech's president and chief executive officer.
"Our combined company will have strong expertise in high bandwidth cellular connectivity, ultra-low power LoRa connectivity, IoT software and services, and extensive knowledge of IoT hardware and software channels and vertical markets."
As part of the deal, former Sierra Wireless senior leaders join the Semtech leadership team, with the company split into two newly formed business groups.
Tom Mueller joins as executive vice president of the IoT System Products Group, which includes Semtech's existing LoRa products business, while Ross Gray joins as vice president of the IoT Connected Services Group. Meanwhile, Pravin Desale joins Semtech as the senior vice president of IoT Engineering.
Founded in 1960, Semtech specializes in providing IoT solutions and has a global presence in 29 markets, including the US, Canada, UK, France, China, and India.
Meanwhile, Sierra Wireless offers a range of IoT solutions, and has shipped over 168 million devices to connect to the IoT.