Serco AsPac is moving to the cloud with the help of Microland.
The Asia Pacific branch of Serco Group, a company which provides public services including health care, transportation systems, and facilities management, is exiting its data centers and moving its operations to Microsoft Azure.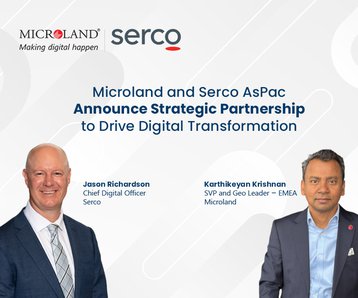 As part of the cloud migration, Serco AsPac has signed an 18+ year technology delivery relationship with Microland.
Indian technology company Microland will help the company leave its data centers and provide Serco AsPac with end-user device management services including networking and connectivity, and security tooling, along with governance, risk, and compliance.
The intention is also to increase the automation of infrastructure management from the existing setup.
Jason Richardson, CDO of Serco, said: "Digital transformation is core to our vision of delivering innovation to our customers. Our partnership with Microland coupled with a data center exit strategy moving to the Cloud, marks a significant step towards digital transformation in the public services sector which is helping drive effectiveness and efficiency in our business operations and tech-enabled business growth."
Karthikeyan Krishnan, SVP and Geo leader Europe, Middle East and Africa of Microland, said: "We are delighted to partner with Serco AsPac to deliver high-quality digital public services using cutting-edge technologies. It is our endeavor to continuously deploy tech at scale to improve customer experience, enhance business agility, and improve the quality of digital public services."
DCD has contacted Serco for more information regarding their current data center footprint, and how long the migration is expected to take.
Serco's other regions have worked with Micrland already for several years, with a client commendation of Microland's website from Serco Group's CIO John Lockett stating: "Microland has been our partner to accelerate our digital transformation journey for the past few years and I am happy to see them expand their business and operations footprint in UK and Continental Europe.
"Combining the strengths of Microland with that of Serco's expectation of rapid transformation always results in formidable capabilities with an intimate understanding of our needs and opportunities. And the cultural fit between our two organizations is the foundation of our partnership."
Microland was incorporated in 1989 and is headquartered in Bengaluru, India. The company provides digital services to enterprise customers, including networks, cloud computing, digital workplaces, cybersecurity, and industrial IoT (Internet of Things).