Data center developer and operator Server Farm Realty has acquired a data center in Suwanee, Georgia, near Atlanta.
Serverfarm does not list the name of the previous owner, but chipmaker AMD still shows the address as home to its only publicly listed data center, and they are both exactly the same size - at 153,000 square feet (14,214 sq m).
One man's consolidation is another's treasure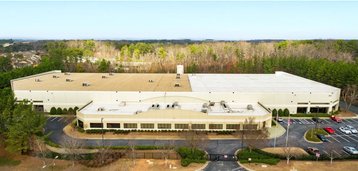 "Our goal is to help our customers manage everything physical in the digital world so they can focus on their core business," Avner Papouchado, CEO of Serverfarm, said.
"305 Satellite Blvd will provide an exciting opportunity for Serverfarm to enhance the business of existing and new clients."
AMD originally filed for a construction permit for the data center back in 2011, a retrofit build into an existing shell, with an estimated construction cost between $25m and $30m. The facility opened a year later, as a single module, and then was expanded as AMD consolidated its data centers.
In 2014, AMD told reporters that it planned to consolidate its 18 data center facilities around the world to two data centers by 2015: the one in Georgia and another in Cyberjaya, Malaysia.
That year, it said it had virtualized 90 percent of its corporate data center environment, decommissioning 75 percent of its physical servers and 72 percent of its virtual servers.
The status of the Malaysian data center is unclear (Update: AMD has clarified the facility in Cyberjaya is still operational). In 2015, the company wrote in a corporate brochure: 
"AMD's Global Data Center in Cyberjaya began operations in December 2010. This state-of-the-art data center has enabled AMD's business to streamline its operations across Asia (including Singapore and India). Since then, AMD Cyberjaya's data center has grown tremendously to become one of the highest density (thousands of CPU cores per rack) and highly virtualized (more than 90%) data centers in the country."
However, it is no longer listed on AMD's website and may have been silently sold off like the Georgia data center.
DCD has reached out to AMD to confirm the sale to Serverfarm, and check whether AMD indeed no longer operates any facilities. We will update the story when we hear more.
Update: Following a conversation with AMD, it is understood that the change in ownership of the site was with landlords of the building, and "has no impact on AMD." It is not clear if AMD will remain the only tenant at the site, or how many modules were operational, but Serverfarm did call the purchase "an exciting opportunity… to enhance the business of existing and new clients."
Previously, ZDnet reported that AMD had an 11-year lease on the site, in an article written in 2014.