US university spin-off ServerDomes has signed a deal to deploy data centers in aluminum domes along a new Mexican fiber route.
Portland-based ServerDomes, which launched its distinctive geodesic design in 2017, has signed a partnership with Fermaca Infraestructura, an infrastructure developer in Mexico.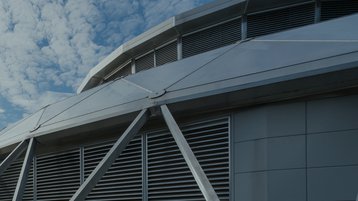 Fermaca will get exclusive rights to build data centers for its customers using ServerDomes' design.
The Mexican company's subsidiary Fermaca Networks is developing a 1,950km dark fiber network running from the US-Mexico border to the west and central regions of Mexico, which is set to launch in Q4 2025.
Fermaca Infraestructura plans to deploy Edge data centers along the new fiber route using ServerDomes's design, though the company has not said how many data centers will be built, or where.
ServerDomes (formerly Server Dome) was spun out of the Oregon Health & Science University (OHSU), which built a facility in Hillsboro, Oregon in 2014, that was covered by a geodesic dome made of aluminum and used natural convection to cool the servers without air conditioning units, exhaust fans, dehumidifiers, chillers, and CRACs. ServerDomes claims this saves 27 percent of the power, and 92 percent of the water used in a comparable facility.
The original design is an 8,000-square-foot (743 sqm), 4MW data center that spends just 0.2MW on non-IT equipment. The Tier III-standard module is capable of hosting up to 168 52u racks.
The dome has air intakes toward the bottom of the building and air vents toward the top. An airfoil helps improve exhaust – much like the 'chicken coop' design used by Yahoo, among others – and a 'vegetative bio-swale' around the facility provides additional cooling and air supply.
Each rack can support up to 25kW of hardware, and the company has said rack densities can be increased further with liquid cooling to around 40kW in a 52u configuration. The existing facility runs with an annualized PUE of 1.13 and an average WUE of 0.1 L/Kwh and is designed to operate as a "lights out" facility.
The Portland Business Journal previously reported that the original project cost $22 million.
Fermaca Infraestructura is a subsidiary of the Fermaca Dreams holding company. The company's dark fiber network will run from Guadalajara and Querétaro north to El Paso on the border.
"This partnership is an amazing milestone for ServerDomes and a wonderful validation for our technology," said David Jackson, CEO of ServerDomes.
Ray Fletcher, CEO of Fermaca Infraestructura, added: "ServerDomes is exactly the right data center at the right time."