SES Space & Defense has been awarded a $134 million contract to provide X-band satellite communications services for the US Department of Defense (DoD).
The five-year BPA (blanket purchase agreement) was awarded by the US Space Force through the Defense Information Systems Agency's (DISA) Defense Information Technology Contracting Organization (DITCO).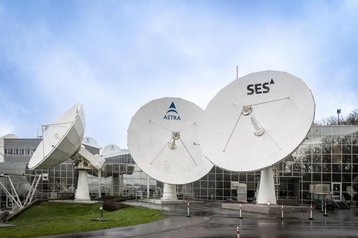 It's the first integration services agreement awarded to SES Space & Defense since the acquisition of DRS GES by SES was finalized last year.
As part of the contract, SES Space & Defense will leverage the multi-mission GovSat-1 satellite, which operates in the X-band and military Ka-band beams.
GovSat-1 is a satellite operated by GovSat and is entirely dedicated to government and military missions.
"SES Space & Defense believes the BPA is one of the foundation blocks in accelerating MILSATCOM-COMSATCOM integration for the space enterprise. The US Space Force established this contract as a mechanism to enable access to commercial X-band capacity globally for the DoD," said SES Space & Defense president and CEO David Fields.
"We have partnered with industry-leading X-Band owners and operators as we understand the demand for secure, non-preemptible mission-assured capacity for critical operations. By combining satellite capacity, SATCOM services can achieve the highest availability with redundant X-Band coverage and diverse gateway connectivity within sovereign space."
Luxembourg-based SES confirmed last week that it had ended talks with Intelsat over a potential merger deal. The company operates a commercial fleet of more than 70 geosynchronous and medium Earth orbit satellites.