Russia again targeted critical infrastructure in Ukraine in a new wave of missile strikes.
It is not known if there were any casualties following the attack, but Kharkiv's regional governor reported at least eight were wounded.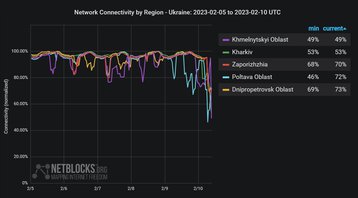 Ukraine's air force said Russia fired 71 cruise missiles, and claimed that it was able to shoot down 61 of them.
The attacks targeted four of DTEK's thermal power stations, as well as hydropower sites, and high-voltage infrastructure in six regions, leading to emergency electricity shutdowns.
"The most difficult situation is in Zaporizhzhia, Kharkiv, and Khmelnytskyi regions," Energy Minister German Galushchenko said.
The power outages, and damage to fiber infrastructure, has impacted Internet connectivity in the country.
"A series of attacks on Ukraine today combining cruise missiles, S300s, and drones by Russia have impacted energy and Internet infrastructure, alongside emergency shutdowns; metrics show localized reductions in connectivity," Internet outage tracker NetBlocks said.
Connectivity in Ukraine has been under constant attack by invading forces, but has been repeatedly repaired and maintained by telecoms engineers who have continued to work amid the death and destruction.