Singtel, Gulf, and AIS have broken ground on a new data center in Thailand.
The companies announced this week that they had commenced the construction of a new data center located near to Thailand's capital Bangkok.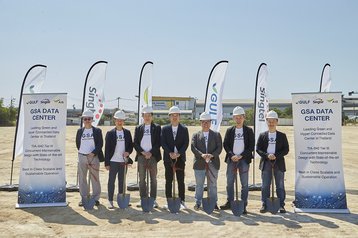 The 20MW facility is scheduled to begin commercial operations in 2025. The data center will be operated by their joint venture company GSA Data Center Company Limited (GSA).
Energy firm Gulf, telco Singtel, and local telco AIS hold equity stakes of 40 percent, 35 percent, and 25 percent, respectively in GSA.
Bill Chang, CEO of Singtel's regional data center business, said: "The commencement of the construction phase of our Thai data center marks an exciting milestone for our regional data center strategy, which aims to create the high-quality digital infrastructure needed to address the accelerating digital needs of ASEAN enterprises and cloud service providers, so as to entrench Singtel's position as a leading regional data center player."
In October 2021 Singtel announced plans to form a new data center company focused on Southeast Asia, beginning with a Thai joint venture with Gulf Energy, with AIS joining the partnership in early 2022.
Ravi Kurmarohita, CEO of GSA, added: "Today's groundbreaking ceremony marks another milestone in GSA's data center development and is considered an auspicious occasion to officially start the construction of the GSA data center."
Kurmarohita is also chief international business officer at Gulf Energy and has been at the company for more than 25 years.
Singtel is developing a 51MW data center in Indonesia in partnership with Telkom and Medco Power.
The company said it is also adding capacity in Singapore with a new 40MW build in Tuas adjacent to the Tuas cable landing station. The Indonesian and Singapore data center are expected to begin operations by 2025.