SK ecoplant is planning a new 120MW data center campus and landing station in Pohang, South Korea.
The company this week announced it had signed a business agreement for the development of a data center campus linked to a cable landing station (CLS) in Pohang, Gyeongsang Province.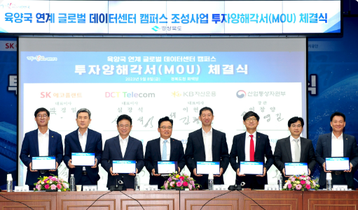 The investment memorandum of understanding (MoU) for the creation of a 'global data center campus linked to land and country' was signed this week alongside DCT Telecom and KB Asset Management.
The three companies will invest approximately KRW 1.5 trillion ($1.12 billion) in the Pohang Blue Valley Industrial Complex developing a 120MW campus connected to a planned CLS.
According to the South Korean Ministry of Trade, Industry, and Energy, this will be Pohang City's first data center. The Ministry said the campus – located at 158 Gongdang-ri, Donghae-myeon, Nam-gu – will see four data centers, with a capacity of 30MW each, built by 2027.
SK ecoplant plans to participate in data center campus design, purchase, and construction, securing land, obtaining permits, and establishing a joint venture with an operating company during the project. DCT Telecom is responsible for the installation and operation of land and submarine optical cables, and KB Asset Management is responsible for investment using digital infrastructure funds.
Park Kyung-il, CEO of SK ecoplant, said: "As Korea's No. 1 fuel cell operator last year, we plan to contribute to the revitalization of distributed energy and actively participate in the government's policy by mobilizing all of our data center developer capabilities." He added, "Through our participation in this project, the Pohang Data Center Campus will expand the domestic market." "We will do our best to establish ourselves as a world-class digital infrastructure model," he said.
Pohang is a city located on the southeastern coast of South Korea. DCT Telecom is planning a new cable from Pohang to Fukuoka, Japan. Known as Bridge One, the system is expected to be ready for service in 2025, with 24 fiber pairs.
Energy Policy director Cheon Young-gil, who attended the agreement signing ceremony, said: "We welcome the investment in the Pohang Global Data Center Campus construction project."
Formerly known as SK E&C, SK ecoplant is the construction subsidiary of the South Korean conglomerate SK Group, which also owns the likes of SK Telecom and SK Hynix.
KB Asset Management is the asset management arm of the KB Financial Group, the largest financial group in South Korea.
More in Construction & Site Selection