Edgevana, a startup promising scalable capacity in Edge locations, has signed a partnership with Solana, a Web3 blockchain company.
Solana will deploy 500 bare metal servers in 32 Edge locations managed by Edgevana. They will be used to support Solana's "validator" servers, which managed the hashing and other blockchain functions and "RPCs", servers that use remote procedure calls from applications using the Solana blockchain as a resource.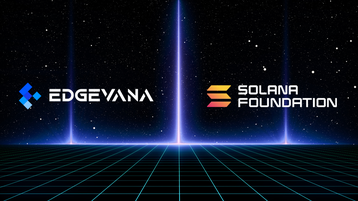 Edgevana was founded in 2019 by data center veterans Mark Thiele and Subhan Jahromi, with an idea of aggregating Edge capacity so applications can access it from a single point and deploy across multilpe locations without having to negotiate multiple contracts with individual data centers. The company has operated in stealth mode, signing partnerships with some 50 data center companies, along with multiple network service providers, according to Thiele.
"Edgevana was founded, abstracting away the data center providers providing the single throat to choke for data center and network oriented solutions," he told DCD in an interview. "We got yanked out of stealth by an opportunity in the Web3 space. It's not where we were originally targeting, but it turns out how we were building the company was a perfect fit for Web3 companies."
Thiele said: "These blockchain platforms need high-performance computing and near-infinite scalability, along with the speed, security, and resiliency of the enterprise data center ─ all without compromising decentralization or network security."
For Solana, he says Edgevana has "put 500 servers distributed across 32 locations in 22 countries as a private, bare metal-as-a-service offering, with a front end that allows for customer billing."
The deployment will let Solana's customers buy and deploy validators with one click. It will then let Solana see in detail how the infrastructure is being used and how it's performing, and bill those customers that want to run validators, as well as any applications that want to use the blockchain.
"This partnership provides crypto enthusiasts seeking to deepen their support on the Solana blockchain best-in-class edge computing, securely positioned in enterprise-class facilities, anywhere, and at any time," said Solana Foundation executive director Dan Albert. "Validators that use Edgevana for onboarding can reduce their hardware costs, have a pain-free and fast onboarding process, receive an affordable month-to-month contract, and scale without compromising security."
Thiele says more partnerships are in the pipeline.