SpaceX's Starlink unit is seeing some issues with its new generation of satellites and will be de-orbiting some recently launched machines. At the same time, the company is requesting the FCC to allow it to put V-band payloads on the new satellites in lieu of a separate constellation.
Nathan Owens, a Netflix engineer who closely follows SpaceX, noted this week that a number of new Starlink satellites – known as v2 minis and launched in late February – were making a number of unexpected altitude changes and demonstrating eccentric orbits.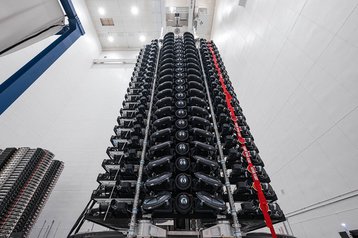 "[There is a] lot of new technology in Starlink V2, so we're experiencing some issues, as expected," SpaceX CEO Elon Musk tweeted in reply. "Some sats will be de-orbited, others will be tested thoroughly before raising altitude above Space Station."
Owens also noted this week that SpaceX has requested to the FCC that its second-generation fleet be allowed to operate in the V-band spectrum.
Currently, SpaceX already has authorization for V-band use for 12,000 V-band satellites but wants to amend its authorization to allow 7,500 V-band payloads on its already-authorized Gen2 constellation.
"This modification will enable SpaceX to make productive and valuable use of V-band frequencies without the need to deploy nearly 12,000 separately-authorized space stations in SpaceX's current V-band license, thereby enhancing space sustainability," the company said.
The V-band, in the 40-75Ghz range and unlicensed in many countries, is often used for high-capacity terrestrial millimeter wave communications systems and has been used to send communications between satellites. A number of other satellite companies are planning to utilize the V-band for LEO satellite constellations. It requires an unobstructed line of sight between terminals.
The FCC granted SpaceX permission for 7,500 Gen2 satellites in December 2022. This was only a partial approval, however, as SpaceX had initially requested approval for a constellation of just under 30,000 satellites.
Compared to the company's Gen1 satellites, the company has said new v2 units include 'more powerful phased array antennas' and the use of E-band for backhaul—which Starlink said would allow it to provide '~4× more capacity per satellite' than earlier iterations. Both generations also utilize the Ka- and Ku-bands.
The current v2 minis are scaled-down versions of the future v2s, which will weigh two tons and span 20 meters once the solar panels are unfurled. The minis were launched on the company's Falcon 9 rockets, while the full-size machines will have to be launched from SpaceX's in-development Starship.
Starlink enters Haiti, gets approval in Pakistan
Starlink's services are now live in Haiti and have been granted approval in Pakistan.
Stars and Stripes reported that the US Air Force is exploring using Starlink across the Indo-Pacific. The publication reports the Hawaii and Yokota, Japan-based 730th Air Mobility Squadron recently demonstrated the capabilities of Starlink terminals at Yokota Air Base on a C-130J Super Hercules airlifter and at Diego Garcia island.
"I was extremely impressed with the capability," Air Force Expeditionary Center's commander, Maj. Gen. John Klein told Stars and Stripes. "We are looking to give our units throughout the Pacific the ability to communicate with command-and-control entities. They are evolving to do that in support of agile combat employment."
This week also saw CEO Musk say rumors that SpaceX was in discussions about a potential investment round with Saudi Arabia's Water and Electricity Holding Company, Badeel, and the United Arab Emirates' Alpha Dhabi, were "not true".