The local government in Spain's northwestern Asturias region is hoping to repurpose mining sites for data center uses.
The Government of Asturias is proposing that former mining sites in the Caudal basin area be used to house data center and supercomputing infrastructure.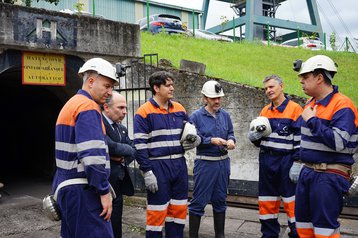 In a recent visit, the Minister of Science, Innovation, and University, Borja Sánchez, and the Director of Operations of the National Supercomputing Center (Barcelona Supercomputing Center), Sergi Girona, visited various enclaves in Aller and Mieres to assess the viability of some of the projects.
"The objective, in this case, is to study the possibility of placing computer infrastructures in this enclave. The interest of the proposal responds to three purposes: to recover old mining facilities for technological purposes; minimizing the energy impact and carbon footprint of maintaining large computing infrastructures, for which mine and surface water would be used; and, finally, to guarantee the physical security currently required by computer equipment that handles large data," an announcement from the Asturias government said.
Local officials hope that sites such as the Santiago well could form the latest node within the Spanish Supercomputing Network (RES).
Formed in 2007 by the Spanish Ministry of Education and Science, RES is a series of connected supercomputing nodes available to Spanish research groups from academia and public research centers. Today it comprises 14 institutions offering 16 supercomputers and nine data services facilities. Like its predecessors, the upcoming MareNostrum 5 system at the Barcelona Supercomputing Center (BSC) will be part of the network.