The Minnesota St. Louis Park City Council has approved a conditional use permit (CUP) for the construction of a data center at 6400 Walker Street during a meeting on September 5.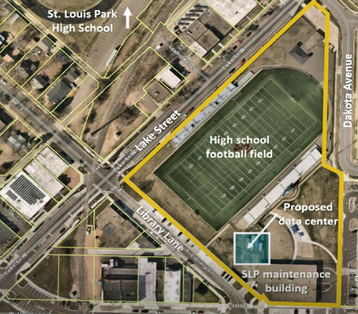 The project will see a data center built to the southeast of a football field and next to an existing maintenance building.
From the floor plans provided with the application, the data center will cover around 5,850 sq ft (543 sqm) of floor space and will feature office space, storage rooms, a dedicated repairs section, and a mechanical/electrical room. The project is expected to start in the fall or early winter, 2023, and to take 16 months to complete.
The City Council received a report from Jacqueline Kramer, associate planner with the city of St. Louis Park, on the proposed data center.
According to Kramer, the land suggested for the data center is currently an outdoor storage yard, mostly for gravel.
Once constructed and operational, the data center will have approximately 12 members of staff, half of which will be off-site at any given time.
Other site changes will include a new underground stormwater treatment system, new plantings and landscaping, and a new playground to the northeast of the building.
At the end of Kramer's report, the request was approved unanimously by council members.
In May 2023, a Pennsylvania high school received a $2.6m overhaul including a new data center for the district. In August of the same year, North Carolina's Brunswick County approved two containerized data centers for schools in the county, provided by Schneider Electric.