American storage vendor DataDirect Networks (DDN) is establishing a new business unit dedicated to software, focused on virtualization, analytics, application containers and DevOps.
DDN is best known as a supplier of storage products for supercomputers - the company says its systems power two thirds of the world's 100 fastest machines.
The new division will focus on helping enterprises get the most value out of their flash, virtualized and containerized hybrid cloud environments.
Going corporate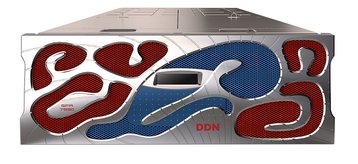 DDN is the world's largest privately owned storage company. Originally focused on high performance computing (HPC), it has been expanding its business, both into exascale systems for cloud providers and generic enterprise storage.
In June, DDN announced it would acquire Intel's Lustre business, along with its development team.
Lustre is an open source file system primarily used for HPC deployments, thanks to its ability to support multiple computer clusters with tens of thousands of nodes each. It has been used extensively by DDN in its products.
And in July, DDN made an offer to buy Tintri, a vendor of all-flash and hybrid storage arrays with a proprietary management system, which had fallen on hard times.
Now, the company has announced it would create a new division dedicated to some of the hottest trends in IT and infrastructure management.
"We are well on our way to achieving a critical team size of 100 people for our development, support and delivery of leading flash-based enterprise virtualization, analytics, and containerized storage solutions," said Alex Bouzari, CEO and co-founder of DDN.
So far, the division has already hired engineers from IBM, Intel and Tintri.
[if gte mso 9]>
Normal 0 false false false EN-GB X-NONE X-NONE MicrosoftInternetExplorer4
/* Style Definitions */ table.MsoNormalTable {mso-style-name:"Table Normal"; mso-tstyle-rowband-size:0; mso-tstyle-colband-size:0; mso-style-noshow:yes; mso-style-priority:99; mso-style-qformat:yes; mso-style-parent:""; mso-padding-alt:0cm 5.4pt 0cm 5.4pt; mso-para-margin-top:0cm; mso-para-margin-right:0cm; mso-para-margin-bottom:10.0pt; mso-para-margin-left:0cm; line-height:115%; mso-pagination:widow-orphan; font-size:11.0pt; font-family:"Calibri","sans-serif"; mso-ascii-font-family:Calibri; mso-ascii-theme-font:minor-latin; mso-fareast-font-family:"Times New Roman"; mso-fareast-theme-font:minor-fareast; mso-hansi-font-family:Calibri; mso-hansi-theme-font:minor-latin;}
<![endif]