German cooling specialist Stulz and distributed computing startup Cloud&Heat are collaborating on a set of compact, water-cooled data center enclosures that repurpose warm water for heating.
The first joint product is a 40kW data center-in-a-box capable of accommodating standard 19-inch servers.
As part of the partnership, Stulz will also assist Cloud&Heat in its sales and marketing efforts.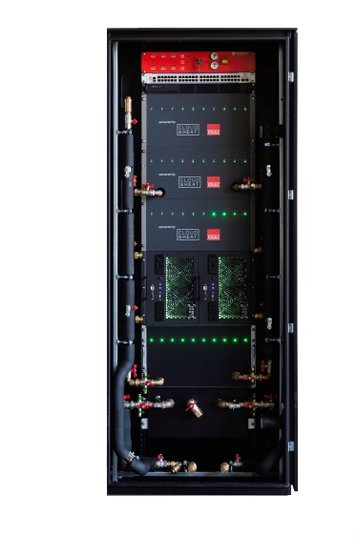 We're gonna need a bigger box
Dresden-based Cloud&Heat was established in 2011 to develop modular, water-cooled data center systems that can be installed where heat is required - in locations such as office buildings or apartment blocks.
Its enclosures use direct-to-chip cooling for increased efficiency – warm water is circulated through a network of pipes and heatsinks attached directly to the hottest elements of the server, like CPUs and RAM. The warm water exits the system at 60°C and be instantly reused for heating purposes.
Earlier this year, the company received €10 million in venture capital to expand its business.
Now, the hot water direct cooling system developed by Cloud&Heat will be available as an equipment option for the Stulz MicroDC series, launched in March.
Cloud&Heat will also be supplying Stulz with the software for pump control, temperature regulation and remote monitoring.
MicroDC is a miniature server enclosure based on a standard 19-inch rack, offering between 40U and 48U of space for IT equipment – taller than enclosures built by Cloud&Heat. It can be shipped complete with all the necessary power and cooling equipment, a cable management system, video monitoring, LED lighting, fire suppression, and physical access control. Stulz previously offered a liquid cooling option, but it had no features to reuse waste heat.