German temperature control specialist Stulz has launched WPAmini, a data center chiller with integrated free cooling in a compact form-factor.
WPAmini offers up to 160 kW of cooling capacity in a frame that measures roughly 2.3m x 1.37m x 3.65m.
Depending on the model, it supports ambient temperature ranges from -40 to +50°C - making it suitable for the most extreme environments - and free cooling allows significant energy savings and reduces cooling costs, especially in cold and temperate climates.
Big on features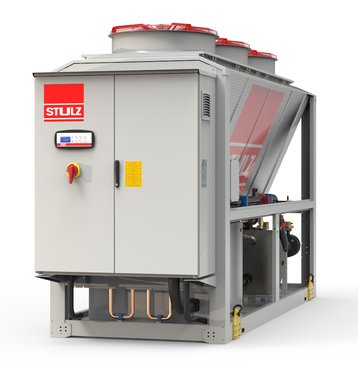 WPAmini is a chiller with v-shaped aluminum microchannel condensers. It is equipped with two redundant refrigerant circuits and four scroll compressors, able to scale cooling capacity in line with heat load.
The chiller supports three operating modes: DX mode, free cooling mode and mixed mode. In mixed mode, cooling capacity is generated by means of simultaneous free cooling and compressor cooling.
For noise-sensitive environments, acoustic insulation is available as an optional extra. WPAmini chillers can also be fitted with optional fan diffusers, which will improve the air conduction and further reduces the noise level, as well as electricity consumption.
The product is fully compliant with the Energy-related Products Directive (ErP), EU legislation which comes into effect on September 2018.