Thermal management specialist Stulz has updated its range of air handling units with the release of CyberHandler 2. The product family includes eleven models of different sizes, with available output ratings ranging from 30 to 520kW.
The system integrates free cooling, adiabatic cooling and mechanical cooling in a single container, which is designed for the outdoors, and can be installed either adjacently to the building or on its roof, depending on space restrictions.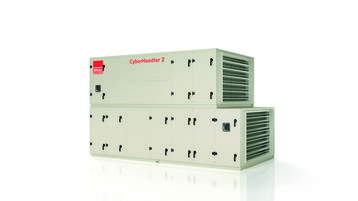 Hybrid cooling
The CyberHandler 2 automatically shifts between three types of cooling, depending on outside temperatures: when they are low, the air handler can use outside indirect air cooling; if they are moderate, the air is drawn in and refrigerated via the evaporative system, and finally, if outside temperatures are very high, the adiabatic system gets a boost from the mechanical cooling unit.
By combining all three types of refrigeration, the company promises energy savings of up to 70 percent over pure DX cooling.
The CyberHandler 2 range is built around a brazed plate heat exchanger made entirely from stainless steel, promising to reduce the fan energy consumption, as well as the amount of necessary electrical infrastructure - something that the company states can help lower capex by up to eight percent, compared to its predecessor.
The efficiency of the design and the sparing use of components are intended to reduce the system's PUE to an average of between 1.02 and 1.1, while freeing up precious white space for IT equipment.
The latest series of AHU systems has integrated DCIM functionality, and comes with a new version of the software, CyberHandler 2 Select, for project planning and tender preparations.