The world's Internet connectivity is at risk because thousands of miles of cables on the sea floor are vulnerable to climate-related disasters, according to new research.
Fiber optic cables on the sea floor can be damaged by storm activity, while cable landing stations can face risks from rising seas and erosion, according to research from the UK's National Oceanography Centre and the University of Central Florida.
A paper published in Earth-Science Reviews further said that the global network of subsea cables has dangerous "hot spots" where failures could produce outages which would create financial losses and international tensions.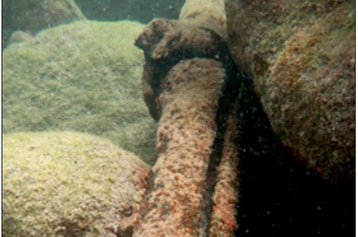 "To date, no study has assessed the wide-reaching impacts of future climate change on subsea cables and landing stations on a global scale," says the report. The authors, led by Dr. Mike Claire of Southampton University, pulled together evidence from multiple published peer-reviewed sources to fill the knowledge gap, "specifically to assess how and where future climate change is likely to impact subsea cables and their shore-based infrastructure."
The study, reported in Energy & Environment (E & E) News and Scientific American, found that ocean conditions are changing globally due to climate change, but the system is immensely complicated due to feedback and the connection between climate change, human activity, and other natural processes such as erosion.
This means that local conditions are highly variable, and the cable network has "hotspots" which are particularly vulnerable.
Digital infrastructure has frequently suffered from storm damage at data centers, but subsea cables are at particular risk from changes in sea level and storm activity. For instance, a storm in 2017 caused a break to the SEA-ME-WE 3 cable which links Europe, the Middle East, and Asia, leading to wholesale Internet disruption.
International cables are being installed at a fast rate right now, and the risks of climate change are being factored into fresh landing stations and cable runs. However, older infrastructure will have been sited at a time when the dangers were less well-known and may therefore be more at risk.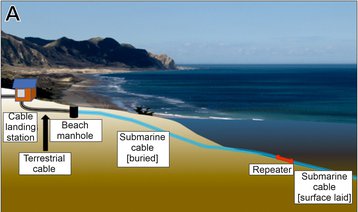 Man-made events such as bottom fishing or ship anchor strikes currently remain more likely than climate-induced outages, but natural hazards can affect multiple cable systems simultaneously across large areas, potentially cutting off whole regions from the Internet, the authors said.
"Cable routes should carefully consider locally-variable drivers of hazard frequency and magnitude," says the report. "Consideration should be given both to instantaneous events (e.g. landslides, tropical cyclones) as well as longer-term, sustained impacts (e.g. seabed currents that circulate even in deep water). Multiple factors can combine to increase the risk posed to subsea cables, hence a holistic approach is essential to assess the compounded effects of both natural processes and human activities in the future."
Among the hotspots identified by the authors, cables off the coast of Taiwan are being stressed by intensifying tropical cyclones - and an outage there could exacerbate political difficulties as Taiwan's sovereignty is under dispute.
The study also had input from collaborators at the U.S Geological Survey, the University of Southampton, Victoria University of Wellington in New Zealand, and the International Cable Protection Committee.